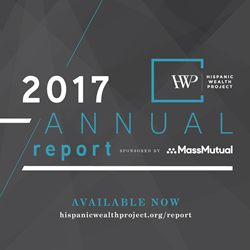 La Jolla, CA (PRWEB) May 23, 2017
The Hispanic Wealth Project™(HWP) in partnership with the National Association of Hispanic Real Estate Professionals (NAHREP®) released the 2017 Hispanic Wealth Project Annual Report today at the annual HWP Symposium in La Jolla, CA.
The report addresses the progress of the HWP Blueprint, a plan to triple Hispanic household wealth by 2024. The HWP Annual Report details enhanced objectives as the project has matured from concept to application with a more clearly defined strategy. The objectives further leverage the unique relationship that the Hispanic Wealth Project shares with the NAHREP network of real estate professionals and corporations, which provides a considerable platform to mobilize initiatives.
The refined component goals of the project are:
1. Increase home equity wealth by achieving a Hispanic homeownership rate of 50 percent or greater
2. Increase the wealth generated from small businesses by boosting the number of Hispanic-owned businesses with $10 million or more in annual revenue
3. Increase the wealth created from savings and investments by achieving broad adoption of the NAHREP 10 Disciplines
The report noted that Hispanic homeownership increased for the second consecutive year in 2016. It also recognized the contributions that Hispanic small businesses have made to the overall U.S. economy, including accelerating overall economic growth and stimulating job creation at a faster pace than other business segments. Additionally, the report showed the need for policy changes and increased corporate engagement.
The Hispanic Wealth Project relies on corporate commitments and partnerships. In 2015, Wells Fargo announced its support of the project by pledging to originate $125 billion in mortgages for Hispanics and other low- to moderate- income borrowers, increasing the number of Hispanic home mortgage consultants on its sales team, and providing $10 million in support for a variety of initiatives that promote financial education and counseling for Hispanic homebuyers. Wells Fargo's year-one progress includes:

$10.5 billion in home loans made to Hispanic borrowers in 2016, an increase of $1.7 billion over 2015, surpassing their goal of $9.1 billion for 2016.
A 16.2 percent rise in the number of Hispanic home mortgage consultants, an increase of 150. Based on these and other efforts, 13.5 percent of Wells Fargo's mortgage professionals are Hispanic, a full 9.5 percentage points higher than the industry average.
A $750 credit offered to home loan borrowers for completing financial education associated with the purchase of a home. Developed in association with Fannie Mae, Wells Fargo originated 18,000 loans under this program in 2016, 14.3 percent of which were made to Hispanic borrowers.
"Hispanics continue to lead the country in population growth, homeownership gains and entrepreneurial successes, and the progress outlined in the HWP Annual Report is encouraging," said Jerry Ascencio, chairman of the Hispanic Wealth Project. "While a critical gap persists in generating Hispanic household wealth, we are excited to capitalize on the momentum of this past year to achieve our goal of tripling median Hispanic household wealth."
The Hispanic Wealth Project Report also detailed several new corporate commitments from companies, including Alterra Home Loans, Bank of America, New American Funding, Realogy Franchise Group, Ten-X and MassMutual, which also sponsored this year's HWP Report.
The HWP symposium was headlined by Sol Trujillo, former Telecomm CEO and founder of the Latino Donor Collaborative, and Raul Fernandez, vice chairman of Monumental Sports & Entertainment, the holding company for the Washington Capitals, and former CEO of technology company ObjectVideo.
To download a copy of the 2017 HWP Annual Report, please visit http://www.hispanicwealthproject.org/report.
About HWP: The Hispanic Wealth Project, a nonprofit 501(c) 3 organization, is committed to empowering Latinos to fully participate and prosper in the U.S. economy through education, small business development and sustainable homeownership.
About NAHREP: The National Association of Hispanic Real Estate Professionals, a nonprofit 501(c) 6 trade association, is dedicated to advancing sustainable homeownership among Latinos by educating and empowering the real estate professionals who serve them. NAHREP is the premier trade organization for Hispanics and has more than 26,000 members in 48 states and 50 affiliate chapters.
Press Contact: Jaimie Owens, NAHREP, jowens(at)nahrep(dot)org, (619)719-4805