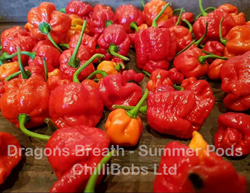 "We make it a rule to taste every new type of chilli that we grow. As soon as we tried Dragon's Breath we knew it was hot!"
Newark, Nottinghamshire, Chelsea, London (PRWEB UK) 20 May 2017
The 'world's hottest chilli' has been unveiled at this year's RHS Chelsea Flower Show. The Dragon's Breath chilli as it is known comes in at 2.4 million Scovilles (SCU), that's 200,000 SCU hotter than the current record holder.
The chilli is the culmination of a joint project involving Tom Smith Plants, NPK Technology and Newark-based chilli grower, ChilliBobs. The Dragon's Breath is being revealed to the world on the Tom Smith Plants stand at the Show and the Guinness World Records have been approached to have it officially verified as the world's hottest chilli.
As the creator, owner and commercial grower of the Dragon's Breath chilli, father and son Bob and Neal Price, harvested it from seed.
Bob said: "We make it a rule to taste every new type of chilli that we grow. As soon as we tried Dragon's Breath we knew it was hot!"
At 2.4m Scovilles, the chilli grown for the Chelsea Flower Show is over 500 times hotter than tabasco sauce. The spicy heat of chilli peppers is measured using the Scoville scale, which was developed in 1912 by an American pharmacist Wilbur Scoville.
An edible variety of the new chilli will be available to buy from ChilliBobs. Hopefully Chilli fans will also be able to taste it at the ChilliBobs East Midlands' Chilli Festival, being held between 7-9th July at the ChilliBobs farm in Rolleston, near Newark, Nottinghamshire. The three-day event is a mix of live music acts, Artisan produce, gift and street food stalls, refreshments and beer tents provided by local breweries plus free kids' activities.
ENDS
Press contacts:
Bob Price, ChilliBobs:
M: 07901 820914
E: chillibob(at)chillibobs(dot)co.uk
Or
Lesley Pashley, Redlime:
T: 01636 611112
M: 07816 842494
E: lesley(at)redlime(dot)co.uk
BACKGROUND
For the last five years Bob 'ChilliBob' Price and son Neal have been growing over 40 varieties of chilli at their farm in Rolleston, Nottinghamshire.
Their aim is not just to propagate plants that pack a punch but to bring flavours from around the world to the East Midlands by growing their own and by creating a range of tasty sauces, relishes and marinades, all under one roof.
However, despite the spicy connotation, Bob Price is keen to point out that it's not all about the heat; "…although some of our products are hot!! We do love our chillies, of course, but more than that we are really interested in bringing a whole range of chilli flavours to suit all tastes, tolerances and cooking situations."
This love of flavours led ChilliBobs to launch its own range of Posh Pickles and Preserves in 2016, a range of 10 chutneys and relishes – three being non-chilli based and seven ranging in heat from mild to hot. Sold at the ChilliBobs shop, Posh Pickles are also available from local delis and farm shops.
Throughout the year, Bob and Neal hold tasting days at various events across the region and also at their own ChilliBobs farm so that people can sample and enjoy different, fresh and seasonal products.
The ChilliBobs calendar culminates in July when the farm hosts ChilliBobs East Midlands' ChilliFest. Now in its fourth year this annual event is set to be the biggest and hottest so far. With the emphasis on "local" there are live music acts across three days, Artisan produce, gift and street food stalls, refreshments and beer tents provided by local breweries plus free kids' activities, it's truly a family event with something for everyone!
For hard-core "ChilliFesters" looking to make a weekend of it there are even on-site camping and caravan options available (subject to availability, so book early). The East Midlands' ChilliFest runs from Friday 7th until Sunday 9th July and kicks off at 7.00pm Friday evening with the 'Chillijam' open mic night for invited local acts!
ChilliBobs will also have a less spicy, edible variety of Dragon's Breath chillies available at the Festival.
For more information about ChilliBobs or The East Midlands ChilliFest tickets and event details, visit the website…