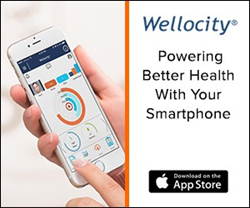 The mobile technology from Wellocity gives me unparalleled reach and flexibility to enhance member engagement with branded programs, content and social media
San Francisco, CA (PRWEB) May 22, 2017
WeightZone Factor a popular weight loss site will sponsor a program on Wellocity to empower WeightZone Factor members to track their exercise patterns, monitor behavioral changes, employ biometric monitoring, improve management of their medications, and get an excellent health education, all on their mobile phones. It also provides social networks for members with similar interests or health problems.
"Popular blogs with great content struggle to drive more engagement with their audience but face an uphill task. To encourage readers to engage more, blogs need to offer something helpful that constantly promotes their brand and the values associated with their blog" said Sameer Kanagala, founder and CEO of Wellocity. "By using the Wellocity apps to offer a branded health and wellness program, blogs can reach their audience 24/7 to improve engagement while promoting a healthy lifestyle for their readers."
The Wellocity platform can significantly increase the reach and revenue for coaches and bloggers while making their expertise more accessible through mobile technology and branded health and wellness. Employers, providers, coaches, and bloggers can achieve higher engagement levels and better outcomes with programs for lifestyle and disease management combined with a health social network.
"We are offering a program with Wellocity because it helps us promote health and wellness to our readers. Wellocity's comprehensive platform will allow http://www.weightzonefactor.com to achieve much higher engagement and promote sustainable lifestyle changes" said Jay Wiener, successful wellness author, popular blogger, and founder of Virtual Wellness. "Our members tend to have a strong interest in improving their health. The mobile technology from Wellocity gives me unparalleled reach and flexibility to enhance member engagement with branded programs, content and social media.
Wellocity will partner with companies across the health and wellness spectrum to provide innovative solutions and engagement models. Wellocity partners have the flexibility to offer both real-time and scheduled content which, along with our health social network are the keys to creating sustained engagement.
About Wellocity
Wellocity is an innovative health and wellness platform that delivers the benefits of a happy and healthy life. Our unique approach to wellness provides the benefits of both lifestyle and disease management with a health social network, specially designed content and gamified apps to keep members engaged, promote healthy behaviors and lower healthcare costs.
Read more about Wellocity on https://wellocitywellness.com/about/
Read more about Virtual Wellness on http://www.weightzonefactor.com/about-us/