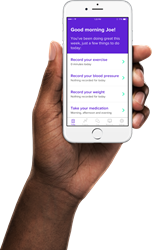 Moving Analytics is a game changer, allowing systems of care to greatly increase patient cardiac rehab completion rates by removing those barriers to care and putting access to the program right in the palm of a patient's hand.
Philadelphia, PA (PRWEB) May 22, 2017
More than 200 leaders in healthcare and technology joined together for the Heart Science Forum and awarded Moving Analytics with the Judge's Choice Award. The Moving Analytics team, lead by Ade Adesanya, featured a health IT platform that allows patients to complete a home-based cardiac rehab program delivered through their mobile device. This opportunity is enormous considering that of patients recommended to cardiac rehab programs, less than a third complete that course of treatment.
Barriers cited for non-compliant patients included lack of transportation, high co-pays, conflicts with work schedules and no access to nearby facilities. Moving Analytics is a game changer, allowing systems of care to greatly increase patient cardiac rehab completion rates by removing those barriers to care and putting access to the program right in the palm of a patient's hand. Locally the Moving Analytics team is working with hospital systems, including Lourdes Health System in Camden to implement homebased
cardiac rehab programs. The Movn app that patients are utilizing through Lourdes' partnership with Moving Analytics allows for remote monitoring by cardiac rehab staff as well as two-way communication so patients can ask questions or report concerns and clinical experts can deliver advice to manage their progress.
The Heart Science Forum recognizes and celebrates the creative achievements of innovators working to improve cardiac and stroke care in the Delaware Valley and beyond. Celebrating its 4th year, the Forum has firmly established itself as the premier event for innovative healthcare excellence in our region and the opportunity for finalists to pitch during the Innovation Challenge portion of the event is a coveted honor. This year's panel of Innovation Challenge judges included:
Tom Borger, CEO, T B Innovative
Dan Dadourian, Executive Director, Medical Affairs, National Field Physician Head, Advocacy Head, AstraZeneca
Anthony Green, Vice President, Technology Commercialization Group, Ben Franklin Technology Partners
Matthew Plevelich, Vice President, NewSpring Capital
Stephen Popielarski, PhD, CEO, SPHM Enterprises, LLC
Companies were evaluated on a number of criteria including their likelihood of having a real-world impact on the prevention or management of cardiovascular disease or stroke. Innovativeness and clarity of unmet need were also considered, along with fundability and the team's ability to execute. All pitching companies are addressing critical gaps in patient care, making selection that much more difficult. Winning the Innovation Challenge at this event is a significant accomplishment and one that has greatly
affected Ade Adesanya of Moving Analytics personally. An immigrant from Nigeria, Adesanya dreamed of contributing to innovations that could make a positive impact on society. He has experience with a variety of new ventures but has committed himself to healthcare because of its global impact and hopes to one day expand his work to Africa. Adesanya tells us, "I often pinch myself because it is a miracle that I am here and living my dreams. It can at times be difficult for immigrants to become entrepreneurs but I
look to my mom for motivation. Her hypertension motivates me and working on this product helps me keep up with the latest evidence in support of her."
"This year's pitches were truly outstanding. We were excited to award these honors, make these financial investments and also revisit the winning projects from last year that have shown remarkable progress in the 12 months since our last Forum occurs. The Forum was a big part of positioning that project and we are thrilled with its success," shared Popielarski. "We look forward to seeing what this year's projects can achieve in the next 12 months and inviting you all to the Forum next April to see their impact and meet our next generation of innovators."
About Moving Analytics
Moving Analytics is a digital health company based in San Francisco, CA. Moving Analytics helps hospitals implement evidence-based remote cardiopulmonary rehab programs delivered through patient's mobile devices. Their solution Is is based on 20 years of research from Stanford University. Our customers include leading health systems including NYU Langone Medical Center, Keck School of Medicine and Our Lady of Lourdes Center, New Jersey. Moving Analytics is backed by Launchpad Digital Health, HealthX Ventures, OCA Ventures and Almond Tree Capital.
About The American Heart Association
The American Heart Association is devoted to saving people from heart disease and stroke – America's No. 1 and No. 5 killers. The AHA teams with industry leaders and expert in healthcare and research, as well as millions of volunteers, to fund innovative research, fight for stronger public health awareness, and provide lifesaving tools and information on treatment and
prevention. The Dallas-based association is the nation's oldest and largest voluntary organization dedicated to fighting heart disease and stroke, and is committed to finding innovative and effective solutions to reduce risk and improve health outcomes for all patients.