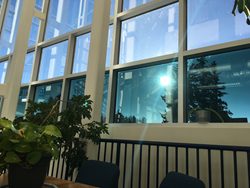 We knew there had to be technology out there to make the rooms feel better. The Suntuitive Glass immediately provided that.
Jenison, MI (PRWEB) May 22, 2017
With the state of Montana being known for its "Big Sky" you can assume that sky also puts out a big sun and big glare. While the trend of daylighting continues to grow, the major problems that come with it are heat and glare. Suntuitive Dynamic Glass was invented to be the product that would allow the best of both worlds and in a beautiful setting on an idyllic college campus in Montana, the opportunity to show its value came to fruition.
Suntuitive Dynamic Glass was installed in the Chemistry and Biochemistry Building at Montana State University (MSU) in Bozeman, Montana. Before the solution of Suntuitive Glass was implemented the student body working there to become future stars of the science world would have to either battle the sun and glare or retreat to rooms within the structure. The head of the Chemistry and Biochemistry Department at MSU, Dr. Mary Cloninger immediately noticed a difference.
"We knew there had to be technology out there to make the rooms feel better. The Suntuitive Glass immediately provided that. Students were more comfortable immediately and they now could study in our atrium area without sunglasses on. The students actually had to wear them indoors in the past because the glare was so bad. So aside from their comfort, we also gained back a very usable space that was being underutilized because of the sunlight streaming in."
Suntuitive Dynamic Glass uses heat from direct sunlight to tint when necessary. As the sun moves across the sky, Suntuitive cools and returns to clear. At night or in cloudy conditions, when direct sun is not present, Suntuitive remains clear and allows as much daylighting as possible.
The need for daylighting is not going away. Various studies continue to show that more daylight equals more occupant comfort. More occupant comfort brings higher efficiency and performance of those experiencing it. In this case, it's the up and coming generation receiving their education at Montana State. In addition to being more comfortable, these specific students of Chemistry and Biochemistry are seeing science in action as Chuck Kuchinick, VP of Sales at Suntuitive Dynamic Glass explains.
"Suntuitive consists of an extruded polyvinyl butyryl (PVB) interlayer with thermochromic properties. The thermochromic glass lightens and darkens by itself – with absolutely no mechanical or electrical intervention – based on heat from direct sunlight, so the scholars at MSU can monitor the transition and see it happening right in front of their eyes."
Suntuitive Dynamic Glass is designed to balance solar heat gain and visible light transmittance for the majority of climates and provide as much daylighting as possible while blocking out solar heat gain at the same time. Even though the product is activated in response to direct sunlight, it is slightly affected by exterior temperatures, wind and sun angle. On cooler days like many in a climate similar to Bozeman's, Suntuitive Glass will not tint down as much to allow for passive solar heat.
Dr. Cloninger also has found some other advantages the Suntuitive Dynamic Glass brings.
"The new windows will need less maintenance over time, we don't need blinds or wall coverings that need constant attention and the energy savings aspect is important too. Over the long term, we truly see a much better deal than what we previously had."
Energy is a major key as Suntuitive Glass can lower costs associated with air conditioning, artificial lighting, and heating, which is up to 50% of a building's total energy consumption, as well as enable a building's heating and cooling systems to be significantly downsized. In addition, always a desire on a college campus is sustainability and the off grid/no wires/no electricity needed nature of Suntuitive Glass truly delivers for the environment.
Montana is nature's paradise with amazing mountain ranges, parks, lakes, and monuments. Suntuitive Dynamic Glass is doing its part to ensure the students at Montana State are getting the best study atmosphere possible without taking away any of the amazing charm and views that make the area stand out.