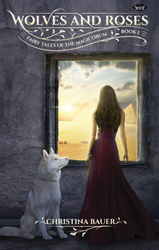 Newton, MA (PRWEB) May 23, 2017
Monster House Books LLC (MHB) today announced Christina Bauer's debut signing at BookExpo America and BookCON in tandem with Distributor IPG and INscribe Digital as the pre-release review debut for Wolves And Roses, their first release for high-volume print distribution. MHB has a proven ebook track record with Bauer, who has sold more than a half-million YA books. With Wolves And Roses, MHB and Bauer launch a new young adult series that combines fairy tale characters, shifters, and mid-town Manhattan.
"When I started writing Wolves And Roses, I thought it would be a typical shifter story," says Author Christina Bauer. "Suddenly, I'm writing about Cinderella, Sleeping Beauty, Red Riding Hood and the Evil Queen from Snow White. They're all teenagers in a therapy group for magical girls who fail at their fairy tale life template. Plus, Cinderella ended up being a jewel thief, Sleeping Beauty had a magical inhaler that kept her awake, and their group leader looked like someone who fell out an ad for electric ovens in 1953. I thought, 'this is crazy, but it's fun to write, so I'm going with it.' I was delighted when my distributor got so excited."
"It's rare to find a fairy tale series where you ask 'why hasn't anyone done this before?'" says Kelly Peterson, Director, INscribe Digital, a division of Independent Publishers Group (IPG). "That's exactly why we're so enthusiastic about Wolves And Roses. There are so many great elements that are both familiar and fresh, all at the same time. That's why we're thrilled Christina will join BEA through our booth and participate in galley signings at BookCON. We feel confident this is a title to watch!"
BEA AND BOOKCON PRESENCE
Monster House Books will be attending BEA in tandem with Inscribe and IPG. A limited number of signed galley copies of Wolves And Roses will be available at the IPG Booth, along with downloadable copies of other titles from Monster House Books. In addition, Wolves And Roses author Christina Bauer will sign galley copies of Wolves And Roses at BookCON on Saturday, June 3rd at 3PM so that she can attend the YA panel with Holly Black, another author who writes strong women.
Wolves And Roses is set to release on October 31st, 2017, and qualified reviewers may request a pre-street copy by visiting the following page: http://monsterhousebooks.com/blog/wrgalley.
ABOUT WOLVES AND ROSES
Seventeen-year-old Bryar Rose has a problem. She's descended from one of the three magical races—shifters, fairies, or witches. That makes her one of the Magicorum, and Magicorum always follow a fairy tale life template. In Bryar's case, that template should be Sleeping Beauty.
"Should" being the key word.
Trouble is, Bryar is nowhere near the sleeping beauty life template. Not even close. She doesn't like birds or woodland creatures. She can't sing. And she certainly can't stand Prince Philpot, the so-called "His Highness of Hedge Funds" that her aunties want her to marry. Even worse, Bryar's having recurring dreams of a bad boy hottie and is obsessed with finding papyri from ancient Egypt. What's up with that?
All Bryar wants is to attend a regular high school with normal humans and forget all about shifters, fairies, witches, and the curse that Colonel Mallory the Magnificent placed on her. And she might be able to do just that--if only she can just keep her head down until her eighteenth birthday when the spell that's ruined her life goes buh-bye.
But that plan gets turned upside down when Bryar Rose meets Knox, the bad boy who's literally from her dreams. Knox is a powerful werewolf, and his presence in her life changes everything, and not just because he makes her knees turn into Jell-O. If Bryar can't figure out who—or what—she really is, it might cost both her and Knox their lives… as well as jeopardize the very nature of magic itself.
ABOUT THE AUTHOR
Christina Bauer knows how to tell stories about kick-ass women. In her best selling Angelbound series, the heroine is a part-demon girl who loves to fight in Purgatory's Arena and falls in love with a part-angel prince. This young adult best seller has driven more than 500,000 ebook downloads and 9,000 reviews on Goodreads and retailers. Bauer has also told the story of the Women's March on Washington by leading PR efforts for the Massachusetts Chapter. Her pre-event press release—the only one sent out on a major wire service—resulted in more than 19,000 global impressions and redistribution by over 350 different media entities including the Associated Press.
Christina graduated from Syracuse University's Newhouse School with BAs in English along with Television, Radio, and Film Production. She lives in Newton, MA with her husband, son, and semi-insane golden retriever, Ruby.
ABOUT MONSTER HOUSE BOOKS
Monster House Books LLC publishes kick-ass fiction for sci-fi, fantasy, urban fantasy, and paranormal romance readers. Like strong heroines, diverse voices and unique storylines? Welcome home.
For more information, visit http://www.MonsterHouseBooks.com.
ABOUT INDEPENDENT PUBLISHERS GROUP
Established in 1971, IPG was the first organization specifically created for the purpose of marketing titles from independent presses to the book trade. With consistent growth year-over-year, IPG's success has come from supporting and encouraging the growth of its client publishers in the United States and worldwide. In 2016, IPG purchased INscribe Digital, a leading edge publishing technology company, which is helping to position IPG as a best in class technology solution for publishers large and small.
Contact Information
Arely Zimmermann
AZimmermann(at)monsterhousebooks.com
Monster House Books LLC