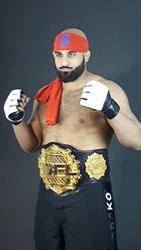 I've got a team of fighters around me, from the boardrooms, to the courtrooms to the cage, my guys know what they are doing and know how to win".
Vancouver, British Columbia (PRWEB) May 29, 2017
Arjan Singh Bhullar, 31, who was born in Canada to Punjabi immigrants from India, has become the first person of South Asian descent to be signed by the Ultimate Fighting Championship (UFC), which is the biggest MMA fight promotion company in the world.
"Another glass ceiling has been smashed. It's official, we are headed to the UFC!" This is what Bhullar wrote on his Facebook wall to announce that he had been signed by the UFC (https://www.youtube.com/watch?v=uZyf0d6dpys).
"We are very proud of what Arjan has accomplished. We knew it was only a matter of time until the UFC signed him. He's a perfect 6-0 and has never lost a round yet in his career," stated Erwin Singh Braich, Canada's first Sikh Billionaire (https://www.youtube.com/watch?v=LgIDvv7wvaw&t=13s).
"I respect Arjan's dedication and the way he was able to persevere through hard times in his life."
Braich is leading a group of businessmen that have formed a coalition and created Dream Team Management, which is a company aiming to assist South Asians globally in making their mark in the world. Bhullar is represented by Dream Team Management. (http://www.prweb.com/releases/2017/05/prweb14348979.htm).
Bhullar is currently the heavyweight champion in the Battlefield Fight League (http://battlefieldfl.com/) and he was the first person of South Asian descent to represent Canada in the Olympics in freestyle wrestling (London 2012) - https://www.youtube.com/watch?v=rmFUC6X4fjE&t=17s).
He also won Gold in freestyle wrestling at the Commonwealth Games (2010) - https://www.youtube.com/watch?v=egGVdLIbEQw&t=170s).
Bhullar is the first wrestler in history to win University national titles for the Canadian (CIS) and American (NAIA) leagues in the same year (2008) and he is a two time NAIA wrestling champion.
In 2007 he won bronze at the Pan American Games in Rio De Janeiro. In 2008 he was named the Canadian Olympic Trials Champion. In 2009 he was named Canadian Wrestler of the Year. In 2011 he was named Sport BC University Athlete of the Year and he was a bronze medalist at the University World Championships. He is a five time National Champion.
Bhullar is the co-founder and co-coach of the University of the Fraser Valley (UFV), wrestling program.
With his co-coach Raj Virdi, Bhullar founded the program in 2014 and completely funded it themselves. They both take no salary from the UFV. Within 6 months of its inception it became the number one program in Canada. This past year they guided Brad Hildenbrandt to become National Champion and in the women's program they guided Karla Godinez to Rookie of the Year honors.
"This has all been a long term plan that was executed to perfection by Arjan," stated Virdi.
"Arjan is a great ambassador to the UFC, for all South Asians around the world and Canadians. He has already once made history by representing Canada at the Olympics and now he's done it again by signing on with the UFC. He is a remarkable young man indeed," stated Jamshed Mistry, Esq. - http://www.internationallegalalliance.com.
Mistry is legal counsel for Dream Team Management. He resides in Mumbai currently and frequently visits Canada. Mistry is a world renowned lawyer and is currently the President of the Entertainment Lawyers association in India and a member of the Canadian Bar Association as well. "We have high hopes and big plans for Arjan in India and beyond. I believe that he can be the heavyweight champion one day in the UFC," added Mistry - https://www.youtube.com/watch?v=WFUJlKbqrfY.
"I always knew he could do it. Some people thought Arjan was crazy for getting into Mixed Martial Arts. He knew what he was doing and I believe he's going to be the heavyweight champion one day," stated Satinder Singh Dhillon, who is one of the founders of Dream Team Management and Arjan's manager.
"Arjan is one of the most focused, talented, intelligent and humble people I've ever met in my life and much credit goes to his mother and father for that and his extended family who he lives with."
"Arjan and I are friends first and foremost and we met by divine intervention years ago. At the time we each were headed down our respective paths having thought out a long term strategy of how to achieve our goals."
"A lot of people thought we were crazy for doing what we were doing. Only we both know what it took to arrive at the point we are at today. It took a lot of planning, perseverance and patience. From the courtroom to the cage, we've both covered a lot of ground since that first encounter," added Dhillon - (http://timesofcanadapresents.blogspot.ca/).
"I'm in this to win and not just participate and the goal is to be heavyweight champion of the world. Each time I enter the cage I feel like I have over a billion people with me, from all walks of life in there with me and it gives me great strength. I'm doing this for all of us," stated Bhullar (http://www.huffingtonpost.com/entry/one-billion-strong_us_591f107ae4b0b28a33f62b7e).
"Just like I've always done, I have assembled a new team around me this past few years to achieve my goals. No man is an island and if you are going to make it to the top you need to be able to work with people from all walks of life. Inside the cage and out, I have the right people to take this thing where it needs to go next. I've got a team of fighters around me, from the boardrooms and courtrooms to the cage, my guys know what they are doing and know how to win."
"I am blessed to have my family, my fight team and Dream Team Management with me on this journey and together we are going to achieve what we set out to do many years ago. I have been planning for this since before I went to the Olympics in 2012 in London."
"I've trained hard and visualized the moments I'm living right now for a long, long time. This is just the beginning and it's not just about what goes on inside the cage. I want to use the platform the UFC has provided me to inspire people and let them know anything is possible in this life and I'm living proof of that."
"I want to effect change in the world, much like my childhood hero, Muhammad Ali, did. After my dad, Ali was the most influential athlete in my life. What Ali accomplished in his life through sport is something I aspire to do. I'm not doing any of this for the accolades, fame or fortune, I'm doing it to continue the work my forefathers began and make the world a better place."
"My brother is a special guy and I know how much hard work he put in to get to where he's at today. I'm very proud of him," stated Jora Bhullar who is a lawyer and has been one of Arjan's trusted advisors in all matters, legal and otherwise.
Arjan is expected to have his first fight on September 9th, 2017, when the UFC comes Rogers Arena in Edmonton, Alberta. This is the first time ever that Edmonton will be hosting a UFC event - http://www.rogersplace.com/ufc-debuts-in-edmonton-september-9-2017/.
"Arjan is going to open up the Indian market for the UFC in a major way like never before. We've got our first South Asian athlete that is not just a token entry to gain audience. They don't call him Big Bhullar for nothing. He is a proven champion and a serious contender in the world's fastest growing sport," stated Davinder Singh Deol, who is a Canadian citizen that travels frequently to Mumbai and Dubai. He is one of the founders and Executive Vice-President of Development of Overseas Markets for Dream Team Management.
"Arjan has serious long term potential for the UFC. There has never been an athlete like him for South Asians to look up to on the international scale, ever."
"Not to take anything away from Connor McGregor, who has all of Ireland behind him and is a great champion but it's just simple math, between the global population of Canadians and South Asians alone, that's over 1.7 billion people and they need a champion like Arjan, who genuinely cares about people and uplifting society."
"Kids are going to be inspired to workout, train hard and be like Arjan. We need more role models for our Punjabi kids especially. I've seen all walks of life and I myself have turned my life around from the very dark and hard times that I've been through as a teenager and young adult."
"I'm inspired by Arjan and my Dream Team colleagues to be a better person in my daily life and am thankful to be working with such a great group of people to help make the world a better place."
Deol is known for having played a huge role in the Indian music industry, having helped pioneer a new sound for Indian music. He was instrumental in creating superstars such as Yo Yo Honey Singh, having funded and advised him in the beginning. Deol also arranged for one of the biggest music collaborations in Bollywood history for Akshay Kumar's movie Singh is Kinng (sic), between Snoop Dogg and Manj Musik, formerly of RDB.
In 2015 Deol orchestrated the biggest party song of the year in Bollywood, Paani Wala Dance, which starred Sunny Leone and Ram Kapoor, which was released by Zee Music Company (one of India's leading television and music companies). - https://www.youtube.com/watch?v=D_CJ4lJ12Us
Also an artist himself, in 2015 he featured on Neha Kakkar and Honey Singh's Aao Raja, for the film Gabbar Is Back (English rap under his stage name Teflon) - https://www.youtube.com/watch?v=66VN2ZIWPnw.
Deol funded Yo Yo Honey Singh's breakthrough song Brown Rang that garnered international attention and launched Honey Singh's career and also that of Badshah and many others that are trending in today's Indian music and film industry (https://www.youtube.com/watch?v=ZbKaRZFnqn8). Deol later assisted in producing Honey Singh's smash hit Blue Eyes (over 100 million youtube views) - https://www.youtube.com/watch?v=NbyHNASFi6U.
Deol has worked with many of the biggest and best artists in India and abroad such as Mika Singh, Diljit Dosanjh, Gippy Grewal, Ray J, G-Unit, C-BO, Tupac's Outlaws, Yukmouth, Tech9ne, the late Chris Lighty, Hardik Dave (founder of Desi Hip-Hop), Shameer Tandon, Govinda, Rock Jacobs, Jup Gill, and many many others from Hollywood to Bollywood.
Deol launched IMM Entertainment in 2012 and released an album in collaboration with Universal Music.

https://www.youtube.com/channel/UC8B6u9pqy066KcIkGezUTbA. "Due to legal matters there is much music from that era that is yet to be released, that will eventually see the light of day. I will also be releasing my long awaited album as well. My lawyers and I are still figuring out the logistics of it all with IMM and the artists we have under contract right now."
"We're gonna bring a huge audience to Arjan's fights in the UFC. Kids and adults will be rooting for him from the pinds (villages) to the cities in India and beyond, we're gonna make sure of it," added Deol who also holds the position as a Creative Director with Dream Team. "We are working on some amazing content right now and this summer is going to be epic, in more ways than one."
"I am a big fan of the UFC and remember when I first took a major interest in it, when I happened to be in Las Vegas and it was Georges St. Pierre's (GSP) first fight. I remember clearly that day at Mandalay Bay, when I heard that there was a Canadian fighting and decided to get tickets at the last minute and go.
"I remember GSP being one of the early fights of the night on the preliminary card and he won a unanimous decision. I recall people making fun of his accent because he is from Quebec. It was so rewarding to watch him dominate after that. I was proud because he was Canadian and now to be able to work with Arjan to help promote his brand worldwide is something I am very proud to be a part of."
"This is such a great opportunity for the UFC to get into Punjab, Mumbai and all of India and South Asia really. These markets are ready to get behind a fighter like Arjan and it's so great that he has such deep roots in the sport, with his father being a celebrated wrestling champion in India," said Anup Kumar.
Kumar is the former manager of Honey Singh and together they made history, with Honey Singh becoming one of the best-selling artists ever in Indian history.
Honey Singh currently holds the record for highest amount charged for a song in Bollywood -http://www.hindustantimes.com/music/honey-singh-paid-highest-fee-for-song/story-opKB9QsqUvZJJNYmYpR7KO.html.
Honey Singh is also is the highest paid overall per song in Bollywood and has over one billion Youtube views - http://www.worldblaze.in/top-10-highest-paid-singers-in-indian-cinema/2/.
And he is the highest paid musician in Bollywood history overall. In 2014 he was 16th on Forbes list of celebrities in India - http://www.forbesindia.com/celebprofile2014/yo-yo-honey-singh/1489/31.
Together with the help of Kumar and Deol, Honey Singh also amassed over 30 million Facebook followers.
Kumar is one of the founders of Dream Team Management and resides in Chandigarh, Punjab, from where he runs his multi-media and management business. Kumar has launched many careers in music and movies and he has worked with many, many, noteworthy Bollywood celebrities which include Amitabh Bachchan, Salman Khan, Shah Rukh Khan, Sonakshi Sinha, Jacqueline Fernandez, Sunny Leone, Akshay Kumar and numerous others.
"There is a pretty big South Asian population in Edmonton and the UFC is going to see how much support Arjan has behind him in Canada when he fights there. It's amazingly fortunate that Arjan will get to make his debut in Edmonton, it's going to be pandemonium that night," stated Luke Meijer, also a member of Dream Team Management -(http://globalnews.ca/news/3409413/ufc-making-its-edmonton-debut-in-september/)
Meijer specializes in European markets for Dream Team, having been born in Holland he speaks Dutch, German, French, Spanish and English. He's a dual citizen having lived in Abbotsford, British Columbia, as a child for a few years.
"I have Icelandic blood in my veins as well and we know a thing or two about fighting. My colleagues joke around sometimes and call me the Viking on the team."
"I've traveled the world and lived in many places including Nepal, Bali, Holland, London and Vancouver among others. It's ironic that during my childhood I spent some years in Abbotsford and that I would eventually end up back here as an adult.
"During my childhood my mom and I spent 5 years living abroad, much of that time was spent in Nepal and I have a special connection to South Asian cultures," added Meijer.
"It's great to have someone like Arjan doing what he's doing in the world and providing inspiration for us all and the next generation. I personally know all too well the story of struggle and going down a dark path in reaction to personal tragedy and then being able to pull myself out, reprogram myself for success and team up with the right people, because as Arjan says no man is an island and teamwork is key," stated Roop Singh Bhandher who is a core part of Dream Team Management personnel and one of the founders as well.
"Arjan is a fighter in more ways than one having overcome many defeats in his life and that is what I respect about him most," added Bhandher.
"What Arjan and my best friend, Raj Dhesi (AKA Jinder Mahal in the WWE), did this past week by becoming WWE World Heavyweight Champion and Arjan signing with the UFC within days of each other is something that will be remembered in history for a long time to come, especially by South Asians who have fought hard to carve out their place in North America."
"I remember those days when Raj and I would workout together and be planning what we should do in the future. There was a time that the WWE seemed like it was in the past, when Raj was let go by the company. And this second chance that he got was a blessing from God and Raj hasn't disappointed. He's more focused and on point than I've ever seen him in my entire life."
"Arjan and Raj represent so much more than just championship belt wins and gold medals, etc, they represent the hard work of our forefathers who laid the foundation down for us all in North America, so that we all could enjoy better lives."
"Sitting and talking to Arjan at UFV when I visited Abbotsford this past year and listening to his story of struggle and perseverance connected with me on a personal level and he's truly the people's champion. I am grateful to be working with him and be a part of Dream Team, to get Arjan and Raj's voice out to the world," said Bhandher.
Bhandher, who owns Hush Entertainment, has run his event management company, doing tours and events for over 15 years. Most recently he did a charity show with Sharry Mann in Pentiction B.C. that raised money for the Penticton Regional Hospital, in honor of his cousin who passed away many years ago.
"To me it's very important go give back to the community, as I consider myself to very fortunate to have overcome some very hard times in life," stated Bhandher.
Bhandher has done tours for mainstream artists and ones from overseas. He has worked with artists such as Imran Khan, Dr. Zeus, B21, K.S. Makhan, Kuldip Manak, Yudvir Manak, Juggy D,, Mumzy Stranger, Jassi Sidhu, Ranjit Bawa, Sharry Mann, Ammy Virk, Rana Ranbir, Fateh PBN, Culture Shock, Mickey Singh, Juvenile, Chamillionaire, Maino, Outlaws, Kent Jones, Superwoman, Humble the Poet, AKakaAmazing, French Montana, and many more.
He also runs an international trading house and has offices in Guangzhou, China, Calgary, Alberta and Oliver, British Columbia,
"I'm looking forward to making history with Arjan coming on board with Dream Team. Arjan's life is an incredible testament to what a person can accomplish when they put their mind, body and soul into something so completely. The world needs more people like him," said Matt Cameron who is a UBC graduate with a degree in psychology. He is also a former university athlete himself (baseball). Matt is Marketing Manager for Domestic Markets with Dream Team Management.
"I'm so proud of what Arjan has accomplished so far in his life. It is truly remarkable what he has done for himself and South Asians all over the world. Being an Olympian, he proudly represented Canada and now he represents India and Canada in the octagon."
"This past week was amazing for Raj, Arjan and the whole community, with their big wins. These guys are able to give young kids something to aspire to, especially South Asian youth," stated Jup Singh Gill, who is a musician that is signed to IMM and he also works with Dream Team Management - https://www.youtube.com/watch?v=mN7KRIQu6MA https://www.youtube.com/watch?v=1PpQUk9tw6k.
"South Asians are making strides in so many ways all around the globe and now to have our fighters being able to compete at the highest levels in the UFC and the WWE is amazing," added Gill.
"Arjan is truly a remarkable person. From helping the youth and young adults in the community, to representing Canada in the Olympics and winning a gold medal at the Commonwealth games in spectacular fashion and now entering the UFC, Arjan has already made us all proud, South Asians and Canadians alike. His wins on the mat feel like wins for all of us. He is a true people's champion," stated Gurtaj (Goldy) Singh Dhaliwal who is a real estate agent with Century 21, specializing in luxury homes, hotels/resorts and apartment buildings in British Columbia and part of the coalition that created Dream Team Management - http://www.century21.ca/goldy.dhaliwal.
"And now he's taking it to new heights. With over 1 billion people behind Arjan, he will bring greater crowds to the UFC and I believe he is the key for the UFC's expansion into India."
"What Arjan represents for South Asians around the world is unprecedented. When he's in the cage you can tell how comfortable he is in there now. I believe 100% he can be the next UFC Heavyweight Champion," added Dhaliwal.
"What an incredible journey all of this has been. So many ups and downs and life lessons learned. The determination and perseverance by the team individually and collectively has been amazing to witness. The future looks bright and I'm very proud to be a part of the team," stated Matthew DeFaveri who also works with Dream Team.
"What Arjan has been able to do and Jinder is truly remarkable and working with Luke, Davinder, Jup, Goldy, Satinder and everyone else has been a lot of fun. To be a part of all of this has been exciting to say the least," added DeFaveri.
"I personally know what it's like persevere through hard times and have much respect for what Arjan has accomplished. A Jim Watkins quote comes to mind when I think of Arjan: "A river cuts through rock, not because of its power, but because of its persistence," and as Bruce Lee says, "Be like water"," stated Emmet Pierce who is a special advisor to Dream Team Management.