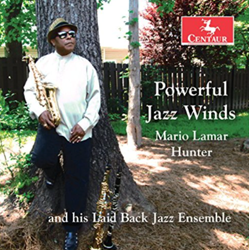 It is my desire that the music will blow powerful (but beautiful) jazz winds towards Jazz Musicians and Music Lovers across the globe, thus creating a force that is enjoyable and certain to be reckoned with."
(PRWEB) May 22, 2017
Mario Lamar Hunter and his Laid Back Jazz Ensemble: Powerful Jazz Winds project is a unique blend of Jazz Standards that offer the listener a nostalgic musical experience through Mario's interpretations that sound like a natural choice for his soulful expression" says Jaijai Jackson of The Jazz Network Worldwide.
His diversified artistry spans genres of music as he is no stranger to international stages over his 35 years in the music industry. During the span of his career, he performed with The Coasters, Charo, Anna Gesteyer, Tommy Tune, Nat Jones and Isaiah "Ike" Oakley from the James Brown and the JBs' bands, Samuel Ramey of The Metropolitan Opera, as well as performing with Ray Charles and his world-renowned Ray Charles Orchestra and with Aretha Franklin in the Aretha Franklin Orchestra as well as the Orchestras of  Jerry "The Iceman" Butler and Gene "The Duke of Earl" Chandler. While in Las Vegas he appeared at The Mirage Hotel and Casino, The MGM Grand and Scores Las Vegas performing during Grand Opening Celebrations alongside of performers from the famed Cirque Du Soleil.
As a well-disciplined educator, he is accustomed to assembling great combinations of musicality and many of his students have gone on to become fine musicians, scholars and highly creative professionals. Hunter has taught saxophone at both private and public institutions including colleges throughout the United States.
Hunter is known for appearing as a clarinet-soloist with symphony orchestras and has held the principal clarinet positions with Maryland's Salisbury and Goucher Chamber Symphony Orchestras and has performed within the clarinet sections of the North Carolina and Maryland Symphony Orchestras.
"I am extremely thrilled to have been signed to Centaur Records by its President Victor Sachse and look forward to a long lasting relationship with the label. This recording project has allowed me to offer my personal renditions of some of my favorite tunes written by some of the greatest Jazz Composers of all time. Simultaneously, I am able to further expose the wonderful talents of the musicians that perform along with me on the album whom are thriving musically in the region of my birthplace. It is my desire that the music will blow powerful (but beautiful) jazz winds towards Jazz Musicians and Music Lovers across the globe, thus creating a force that is enjoyable and certain to be reckoned with." ~ Mario Lamar Hunter 
Not only is Hunter looking to be booked on jazz festivals worldwide for their upcoming seasons with his new band, he continues to work as an on-call Freelancer with Musical Theatre productions, Symphony Orchestras and Stage Bands throughout the U.S.A.
Stop by his soundcloud page at http://soundcloud.com/mario-hunter-reeds/ or visit Amazon.com to hear and purchase his latest release Mario Lamar Hunter and his Laid Back Jazz Ensemble: Powerful Jazz Winds and more!
ArkivMusic
##