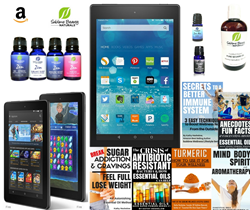 Author Kathy Heshelow offers a special giveaway now, which ends Thursday, valued at $419 and includes a Kindle HD Fire 8. Heshelow writes most often on wellness and beauty.
St. Petersburg, FL (PRWEB) May 22, 2017
Author Kathy Heshelow, also founder of Sublime Naturals, is offering a special free giveaway valued at $419. Get further information and sign up here.
The giveaway is ideal and suited for those who like to read wellness ebooks and use wellness products.
Heshelow is giving away all of her ebooks in addition to several other authors books, a Kindle HD Fire 8, essential oils, turmeric and gift cards. In addition, entrants will get Heshelow's next book free in an early launch.
Heshelow's books include the new best seller Break Sugar Cravings & Addiction, Feel Full and Lose Weight; Essential Oils Have Super Powers; The Crisis of Antibiotic-Resistant Bacteria & How Essential Oils Help (also a best seller); Turmeric - How to Use if for Your Wellness; 3 Secrets of a Better Immune System; Mind-Body-Spirit & Aromatherapy; Anecdotes, Fun Facts & Fascinating History of Essential Oils; Phytoceramides; Anti Aging at its Best.
"I am currently writing a new book on essential oils, as well as a practical guide to aging well," says Heshelow. "I plan to publish several more books this year on wellness subjects."
Her new podcast is Essential Oil Zen.
ABOUT: Kathy Heshelow is founder of Sublime Beauty, Sublime Naturals as well as Zen Box (a subscription box of essential oils.) She is a busy Best-Selling Amazon author writing on wellness and beauty subjects. She also has an expertise in passive-income commercial NNN properties and recently published a book on the subject.