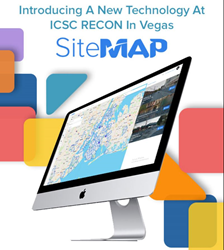 "Delivering business value for our Clients is at the core of every decision we make." - Anjee Solanki, National Director Retail Services | USA at Colliers International
Silicon Valley, CA (PRWEB) May 22, 2017
Today AMP Technologies and Colliers International Inc.(NASDAQ and TSX: CIGI) announce their game changing partnership along with a powerful platform called SiteMAP. With Colliers' vast global experience and knowledge in Retail Strategy, paired with AMP's award winning technology, SiteMAP offers the most dynamic capability available in the marketplace. This exclusive partnership provides expertise in every retail sector, where Colliers International will work hand in hand with you to evaluate the portfolio by delivering deep market intelligence from our local retail experts along with big data management with the most innovative technology. The result is a clear focus on what matters most to accelerate business growth while enhancing client experience and ultimate performance.
Managing site locations and leases has never been so simple.
SiteMAP incorporates economic segmentation, retail specific key metrics and operational parameters all in one easy to use technology platform. Provided to Users in Real Time with built-in intelligence that pulls from key data points to precisely deliver insights in the ever-changing retail landscape to accelerated business results. The newly launched platform incorporates the best capabilities, from seamlessly predicting client behavior to providing business critical market intelligence all in real time. Couple that with Colliers International 530 Retail Professionals in North America, you now have an instant, extended real estate department.
Anjee Solanki, National Director Retail Services | USA at Colliers International shares, "Delivering business value for our Clients is at the core of every decision we make. With the endless amount of data available today, we wanted to create something completely new that seamlessly helps manage all key information to create strong business results. Retailers today need to be very smart about how they leverage available data through the latest technology in order to drive performance and make the most informed decisions. This allow for the best opportunities to come into focus faster and more accurately than ever before. Colliers International's partnership with AMP Technologies will do exactly that, completely changing the way Retail Leaders do business today."
"The retail industry is changing at a rapid scale, where the digital and real world experience are colliding faster than ever. To harness the power of information, behaviours and real dynamic insights is the key to deliver client experience, like never-before. The highest level of operational and strategic capabilities is what we have accomplished through our partnership with Colliers International. You can experience this transformational collaboration while using SiteMAP, the technology speaks for itself. There is nothing else like it available today." Shares Neel Naicker, Co-Founder and CEO of AMP Technologies.
Technology and innovation will continue to drive change in the Retail space. With SiteMAP you have the latest advancement in Retail technology at your finger-tips. From precise site selection and key client behaviour insights to the dynamic easy to view market intelligence maps, SiteMAP delivers at a level never experience before. This is just the beginning of what is to come in Retail, Colliers International and AMP Technologies will continue leading the way, wait until you see what's next.
ABOUT AMP TECHNOLOGIES
Headquartered in Silicon Valley, AMP Technologies is completely transforming the Commercial Real Estate industry. AMP's platform was built specifically to simplify asset management; increasing revenue, decreasing operating costs. A flexible Digital Operating platform, that includes business intelligence, valuations, asset management, debt management, leasing, and social interaction. Whether you are an investor, lender, owner, operator, manager, broker, tenant, or a building occupant - AMP gives you real time access to everything that improves your performance and experience. AMP provides the key tools needed for every level of the organization for effective analysis and decision-making – all in REAL-TIME
ABOUT COLLIERS INTERNATIONAL Colliers International Group Inc. (NASDAQ and TSX: CIGI) is an industry-leading global real estate services company with 15,000 skilled professionals operating in 68 countries. With an enterprising culture and significant employee ownership, Colliers professionals provide a full range of services to real estate occupiers, owners and investors worldwide. Services include strategic advice and execution for property sales, leasing and finance; global corporate solutions; property, facility and project management; workplace solutions; appraisal, valuation and tax consulting; customized research; and thought leadership consulting.
Colliers professionals think differently, share great ideas and offer thoughtful and innovative advice that help clients accelerate their success. Colliers has been ranked among the top 100 global outsourcing firms by the International Association of Outsourcing Professionals for 12 consecutive years, more than any other real estate services firm.
For the latest news from Colliers, visit Colliers.com or follow us on Twitter: @Colliers and LinkedIn.
###