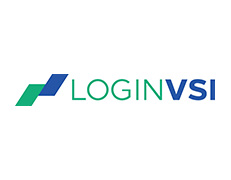 The Virtual User is a must-have strategic asset to proactively manage end -user experience.
Orlando, FL (PRWEB) May 22, 2017
Login VSI, the industry leader in digital workplace performance management solutions for virtualized desktops, will be showcasing its digital workplace performance solution, Login PI 2.0, at #CitrixSynergy, held this week at the Orange County Convention Center. Login VSI will demonstrate Login PI 2.0 at booth #409.
Login PI provides intuitive insights into end user digital experience through an agent-less 'virtual user' approach which simulates the behaviors and task workflow of real users operating in a real desktop environment; causing no impact to enterprise productivity. Login PI provides 24/7 data on metrics like network latency and logon details to ensure applications are always operating at peak efficiency.
Login PI 2.0 introduces Service Level Agreement (SLA) reports. This allows IT to produce intuitive reports summarizing the virtual user performance for a specific day or month. As IT organizations move to a service delivery model, SLA's are often put in place to outline contractual obligations for application availability and performance. SLA reporting in Login PI enables IT to demonstrate to business that they are delivering on that contract. Customers of DaaS providers can use Login PI to validate the availability and performance for which they are paying. The Login PI 2.0 console also includes a modern, intuitive UI, and a more streamlined installation and configuration, making it easy to use.
While enterprises worldwide continue to embrace virtualized desktop environments, a recent survey of more than 500 IT professionals showed that the biggest concerns continue to be related to the negative impact on productivity and end-user performance (41%). By using virtual users to provide granular visibility into network and application performance, Login PI allows enterprises greater insight into the transformational benefits of VDI.
"Using Login PI, system administrators can proactively manage the broader VDI environment —without impacting the user experience. By simulating real tasks and user actions, Login PI is able to alert administrators to any performance issues occurring during those tasks. This means that IT can measure, as well as predict, the performance levels of their employees' virtual workspaces to ensure that potential problems can be mitigated before they can impact productivity. Ultimately, IT gains the ability to tend to more valuable, revenue-generating initiatives, while reducing negative impact to end-user productivity," said Mark Bowker, senior analyst, Enterprise Strategy Group, in a recent review of Login PI.
"In some cases, especially for those clients providing the widest array of applications, Login PI is enabling my team to contact the client's IT team and alert them that we have detected potential issues with their application. No one else in the BPO market is doing this. Our clients now clearly recognize we are serving them at a heightened level of strategic partnership. Login VSI is a strategic partner for STARTEK. Their Login PI product is enabling us to minimize system downtime and deliver strategic business value like never before." - Jamie Vernon, VP of IT and Infrastructure, STARTEK.
Understanding the importance of integration within the enterprise environment, Login PI 2.0 also includes an updated API to allow easy integration with third-party monitoring and analytic tools, such as Splunk.
"User experience and performance is one of the biggest challenges enterprises face in a virtualized desktop infrastructure (VDI) environment," said Eric-Jan Van Leeuwen, CEO of Login VSI. "When adopting virtual infrastructures or desktop as a service, I&O leaders need to prioritize the end-user experience. Login PI 2.0 with the Virtual User provides I&O organizations with predictive insights to optimize end user experiences, maximize productivity and eliminate business interruptions. The Virtual User is a must-have strategic asset to proactively manage end -user experience."
For more information about Login PI 2.0, please read the Login VSI Blog at: https://www.loginvsi.com/blog
About Login VSI
Login VSI provides predictive and advanced insights for virtualized desktop and server based computing environments. Our software ensures Enterprises can provide their employees with the optimum end-user experience. By utilizing virtual users that mimic real-world users performing real-world tasks— predictive analysis will increase productivity while minimizing downtime and other costly business disruptions. With minimal configuration, Login VSI products work in VMware Horizon®, Citrix XenDesktop and XenApp, Microsoft Remote Desktop Services (Terminal Services) and any other Windows-based virtual desktop solution. Visit http://www.loginvsi.com for more information.