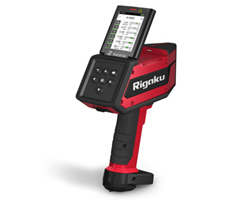 Wilmington, MA (PRWEB) May 22, 2017
Rigaku Corporation is pleased to announce that Rigaku Analytical Devices, a leading provider of innovative handheld spectrometers, will be showcasing its handheld laser-induced breakdown spectroscopy (LIBS) analyzer, the Rigaku KT-100 Katana, at a number of upcoming events related to the recycling industry.
Designed for on-the-spot metals identification, including aluminum grades, the KT-100 Katana™ spectrometer has powerful analytical capabilities, with results in less than 2 seconds – at the touch of a button. KT-100 offers unique auto surface preparation with its Drill-Down™ feature and is considerably smaller and lighter than other handheld LIBS analyzers currently available. With an extended battery life, KT-100 is designed to be more robust and less prone to fatigue and downtime, critical both for on and off-site operations.
Upcoming presentations of the KT-100 Katana spectrometer include:

To find out more about the capabilities of the certified rugged KT-100 Katana, please visit the Rigaku Analytical Devices team at the aforementioned events or visit http://www.Rigaku.com/KT100.
About Rigaku Analytical Devices (RAD)
RAD was formed as the global handheld and portable spectroscopic analyzer business unit of Rigaku Corporation in 2011. RAD's portfolio of handheld and portable spectroscopic analyzers are used for a variety of applications, empowering our customers to achieve rapid lab-quality results any time, any place.
For further information please contact:
Jen Lynch
Marketing Director
Rigaku Analytical Devices
Wilmington, MA USA
Tel: +1 781-328-1024
Jen.Lynch(at)rigaku(dot)com