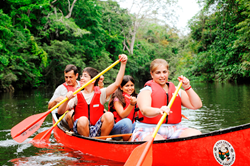 guests 17 years of age and under who share their parent's rooms stay for free
San Ignacio, Belize (PRWEB) May 23, 2017
If there were any doubts that Belize is the world's most family-friendly tourist destination, recent announcements by the little country's government and one of its most popular eco-resorts would "certainly put them to rest," The Lodge at Chaa Creek's general manager said.
Bryony Fleming Bradley was announcing new family oriented summer vacation activities for 2017 when she explained that government policies and private sector initiatives combine to make Belize "probably the most family friendly nation and tourism destination on earth".
Ms Bradley was speaking after the Belize government announced a new "Children's Agenda 2017 – 2030" to coincide with the worldwide observation of the United Nation's International Day of Families on May 15, 2017.
With "Families, education and well-being" the UN's theme for 2017, Belize Prime Minister Dean Barrow and opposition leader John Briceno signed the new Children's Agenda to "raise awareness of the role of families in promoting early childhood education and lifelong learning opportunities for children and adolescences".
In the private sector, members of Belize's tourism industry actively support small villages, schools and organisations such as the San Antonio Women's group, an arts and crafts collective. Chaa Creek, for instance, received global recognition with first place honours for "Engaging Communities" at the 2017 National Geographic World Legacy Awards presented in Berlin.
The eco-resort's projects such as the "Pack-a-Pound" initiative that helps guests donate school supplies to needy children, an annual free environmental summer camp for 24 Belizean youngsters, and other Chaa Creek projects were praised by National Geographic's awards committee.
The tourism industry has had a major impact on funding for schools, libraries and social and environmental programs, and Belize's First Lady, Kim Simplis Barrow, is recognised globally as a tireless advocate for the welfare of women and children in Belize, travelling the world to raise funds for paediatric hospital wards and other initiatives.
Ms Bradley said Belizean culture's strong focus on family is naturally reflected in the hospitality industry.
"Especially here in the Cayo District, many of the most well known resorts, hotels and restaurants got their start as small mom and pop operations that grew along with Belize's rise as a travel destination," Ms Bradley said.
"Belize has always been very family-oriented. Not too long ago farming and fishing, which are two occupations that traditionally involve families working together, were the main occupations in Belize," she explained.
"Chaa Creek, for instance, began life as our small family farm where my brother and I were born and raised. When my parents began taking in guests and established Chaa Creek as one of Belize's first eco-resorts back in 1981, we all naturally pitched in.
"Our first employees were all local people, and as we grew, their brothers, sisters, aunts, uncles and other relatives all came aboard, so now we basically have a big 160 member family still managed by my own family.
"And people notice that. It all contributes to that warm and friendly atmosphere, that visitors always comment on, not only at Chaa Creek but throughout Belize," Ms Bradley said.
At Chaa Creek guests 17 years of age and under who share their parent's rooms stay for free. The family-friendly summer activities Ms Bradley listed included downstream river tubing and canoeing, horseback riding and hiking along the jungle trails crisscrossing Chaa Creek's 400 acre private nature reserve, ancient Maya temple exploration, nature walks and other activities.
The wide range of activities and amenities that include an infinity pool, internationally recognised Hilltop Spa, onsite Natural History Museum, butterfly farm and a board games room ensure there's something of interest for all members of the family, Ms Bradley said.
"We also make sure that parents and grandparents can enjoy some time of their own at the pool, Jungle Lounge or relaxing in a hammock on their private verandas while the kids enjoy rainforest treasure hunts or other fun and educational activities under the supervision of our licensed naturalist guides," she added.
"The point is to create vacations that foster family togetherness while offering activities that are interesting to guests of all ages. After over thirty-five years of hosting families I like to think we've become pretty good at that, and being a family owned and operated eco-resort gives our staff the freedom to work with families to tailor and fine-tune their vacations.
"We don't claim to offer the absolute, one-hundred percent perfect family holiday, but we think we're pretty close," Ms Bradley said.
The Lodge at Chaa Creek is a multi-award winning eco resort set within a 400-acre private nature reserve along the banks of the Macal River in Belize. It was recognised by National Geographic with first place honours at the 2017 World Legacy Awards held in Berlin.
ENDS