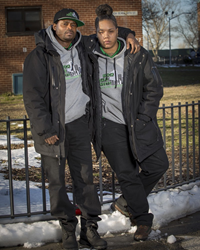 New York, NY (PRWEB) May 22, 2017
On Tuesday, May 23rd, 2017, Far Rockaway, Queens residents and city leaders join Sheltering Arms to celebrate more than 365 days without a shooting in the Arverne View section of Far Rockaway, Queens, once notorious for having one of the highest rates of gang activity and gun violence per capita in New York City. Sheltering Arms is one of the foremost human services nonprofits in New York City and parent organization for the Rock Safe Streets gun violence intervention program. The event, titled Keep it Alive for 365, will take place from 2-4 p.m. at the Arverne View Apartment Building 1 Community Room, 57-17 Shore Front Parkway, Arverne, NY 11692.
The Arverne View apartments, formerly known as Ocean View, consist of 1,100 apartments and 11 buildings of low-income housing. Since Sheltering Arms introduced Rock Safe Streets in 2015, the number of shootings has dropped by 90% compared to the same time period before the program launched, as reported by the 101st Precinct which serves the area.
"Since Rock Safe Streets has come to the community, I feel safer and it appears that the community is working together to stop the gun violence," said Jessica Taylor, longtime Arverne View Resident. "People were afraid to let their kids play outside, but we can see a change."
The event will include honors for community residents who have banded together to promote peace, healing, and conflict mediation instead of violence or retaliation, as well as fun activities for children who have only recently begun to play in public areas, playgrounds, and beaches in the neighborhood without fear of violence.
"Sheltering Arms has been serving kids and families in Queens for over a century, and we focus a great deal of resources on Far Rockaway where poverty rates, unemployment, and violence have been much higher than in other parts of the city," said Elizabeth McCarthy, CEO of Sheltering Arms. "When we focus our resources and come together as a community, we know we can make positive change. Our Rock Safe Streets team has mobilized our top partners and the best research available to strengthen and heal this community."
Sheltering Arms' Rock Safe Streets program uses the nationally recognized Cure Violence methodology to prevent gun violence and heal trauma in the community. The program's team of Violence Interrupters are trusted long-time community members who have themselves survived violence or gang involvement. Their credibility allows them to identify individuals at the highest risk of perpetrating or falling victim to violence, and mediate conflicts before they turn violent.
"Rock Safe Streets and all of the staff at Sheltering Arms have been tireless advocates for the safety and success of this community and my constituents," said Donovan Richards, City Council Member for the 31st District, and longtime supporter of Rock Safe Streets. "I see the benefit of our investment in their work every day. We're humbled and grateful to this community for standing together to say no to violence and build a safer, thriving future for the children of Far Rockaway."
In January 2017, Rock Safe Streets received an award proclamation from Councilman Richards and the entire City Council for honoring the legacy of Dr. Martin Luther King Jr. by empowering New York's minority communities.
Rock Safe Streets benefits from a close positive relationship with the local 101st Precinct through which staff share data about potential conflict zones and trends in violence, prioritize community policing, and share responsibility for public safety.
Rock Safe Streets also promotes economic development and opportunity. Staff provide job training, education, counseling, and referrals to housing, mental health, food, clothing, and more so that youth have avenues to success and alternatives to pressure from gangs and drug sales.
Rock Safe Streets empowers peaceful residents, including local businesses, school children, and seniors, to apply social pressure on the few individuals who are the source of conflict in the community. In 2016 alone, Rock Safe Streets gathered 20,000 peace pledges from local residents. Individuals who pledged to mediate conflict without turning to violence received a signed card to carry in their wallets and paid it forward by asking neighbors and friends to join the pledge. Twice per month, the violence interruption team canvasses hundreds of local businesses, day cares, cars, and homes to solicit pledges of non-violence and help mediate conflict.
Rock Safe Streets will also be celebrating Gun Violence Awareness Month in June at an annual Peace Fest on June 24th with a community-wide block party, reclaiming the streets for peace and unity.
The program is funded and supported by the City Council, the Department of Health and Mental Hygiene, the Health and Hospitals Corporation, and the Mayor's Office to Prevent Gun Violence.
About Sheltering Arms
Sheltering Arms strengthens the education, well-being, and development of 24,000 vulnerable children and families at more than 45 sites across New York City each year so that everyone has the support and opportunity needed to maximize their potential. Through innovation and partnerships, Sheltering Arms enables low-income children and families to take steps toward brighter futures, free from cycles of generational poverty, abuse, and neglect. Sheltering Arms has been committed to their mission since 1831.
For more information visit ShelteringArmsNY.org