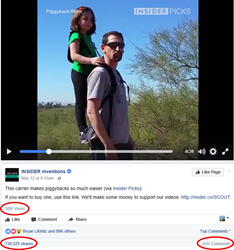 Phoenix, AZ (PRWEB) May 24, 2017
Today, Full Sail International LLC (FSI), a family owned and operated company which strives to re-innovate existing products and create new ones, announced that a video for its Piggyback Rider toddler carrier system was featured in Facebook's "Inside Inventions" page, and in just four days since, it was viewed by 32,000,000 people across Facebook. The video, which features clips from the inventors' personal adventures, has, in seven days, created such demand resulting in selling out 100% of the company's inventory. Currently, FSI is working to bring inventory levels back up to meet the ever-increasing demand for the product.
The rush for product prompted the company to post this message on its website: "Please note this video went viral on 5/12/17 and we are experiencing a massive demand. If you cannot find an available product, it's because we sold out. We anticipate more units in our warehouse around 6/20/17."
Managing Director & one of the brother inventors Bryan Lifshitz said, "We invented Piggyback Rider to create a mutually enjoyable, effortless way to carry a child on your back and, best of all, a bonding experience bar none with you and your child. The fact that this video went viral is a proud moment in our history, and we look forward to providing continued value to our customers as we work to fill all the backorders." The company has offered free gifts with a pre-order for those who are willing to wait.
This achievement was a result of FSI, with its marketing partner, GrayShitz Branding & Marketing (GS), having created a number of initiatives, videos and communications and working to promote these though social media, blogging, and trade shows. As a business that has been around for a few years, valuing just how Facebook & Amazon work, led to the activity that has positioned the company as a major force in the child carrier space. Orders have come from around the world in these seven days.
About Piggyback Rider: The Piggyback Rider® was developed to take advantage of the natural instinct to carry a child on your back. The aluminum bar allows the child to stand up, which positions the center of mass over your hips. Now, you can walk upright. Child hand holds were placed at two locations on the shoulder straps to remove tiny hands from the neck. And the child safety harness adds peace of mind.
###