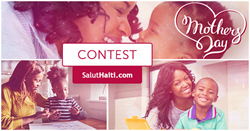 Love it... Best way to communicate with my family in Haiti. (Judite Desir on Trustpilot.com)
Atlanta, Georgia (PRWEB) May 22, 2017
SalutHaiti.com.com, the service dedicated to the Haitian diaspora, organizes a touchy Facebook contest to celebrate Mother's Day. The winner will receive $10 Voice Credit balance that never expires, for international calls to Haiti and/or other destinations in the world. Participants are required to simply leave a comment to the question: "What did you learn from you mother?" All comments posted by May 28, 2017 enter the contest on Facebook automatically: https://www.facebook.com/SalutHaiti/
Everyone is welcome to the Mother's Day celebration in the Haitian Facebook community "I <3 Haiti". Haitian expats, travellers, foreigners who have a strong connection to Haiti, mainly anyone who feels like it or would like to win some international calling credit with SalutHaiti.com.
The condition to enter the race is to leave a simple comment to a simple question: "What did you learn from your mother?" SalutHaiti.com team aims to trigger some good old memories and good emotions from their fans and followers, and create an authentic Mother's Day mood. Comments are expected between May 23-28, 2017. The winner will be picked randomly and announced on May 29, 2017, on the timeline of the Haitian expat community on Facebook: https://www.facebook.com/SalutHaiti/
The winning coupon that will be offered on May 29, consists of free calling minutes worth of $10 Voice Credit that can be used to call Haiti or any other destination on SalutHaiti.com. The credit never expires and can be used any time necessary in 2 different ways, with or without Internet connection, from a smartphone or a regular phone, including a pay phone.
Voice Credit on SalutHaiti.com is prepaid calling balance that can be purchased online without any contract or other constraints. There are no hidden fees, and the Voice Credit balance can be used to call in 2 ways, according to the situation:
-Smartphone users can use KeepCalling app (which is free to install) on their Apple or Android devices. Unlike other services, KeepCalling app does not require that the interlocutor should have a similar app installed;
-Those who want to call without any 3G, 4G or WiFi can use an Access Number in the area where he/she lives. It resembles the old school calling card in terms of functionality, but online credit and PIN makes the lowest rates on the global market for international calls, that are also very easy to make.
The regular price to call Haiti with SalutHaiti.com is 19 cents/minute for calling landlines there, and 24 cents/minute to mobiles. Therefore the winner of the Mother's Day contest gets up to 50 minutes to call Haiti, no matter how long the distance in between.
Everyone who buys a minimum of $2 Voice Credit on SalutHaiti.com also gets Thank You points (loyalty points) on every purchase. Once these points amount to 1000 they can be converted into free calling credit that never expires. Those who want to try the service can do it at any time without any Contract required and minimum values of $2 or $5 Voice Credit.
The calling service on SalutHaiti.com has been optimised thanks to Haitians who tested it on and on and shared their feedback. That's why the service is now among the most competitive on the global market for at least the following aspects:
-The service is easy to use by both experienced or inexperienced users;
-It is very economical thanks to the low rates and no hidden fees, but also since the Voice Credit can be purchased online;
-The transaction is 100% safe; the service bears the label "Verified & Secured";
-All transactions are listed in once/ one's account, including the invoices, and all communications by email or on the website are transparent;
-History is available in one's account too;
-There are free features that can be activated to customize one's calling experience;
-No contract is needed, and no administration fee applies; the account costs nothing and is for life-time;
-Customer Support team is available 24/7 in English, French and other languages;
-Payment is flexible: all currencies are accepted, and all major cards, as well as PayPal.
The Haitian Facebook page powered by SalutHaiti.com for the Haitians abroad and Haiti fans and friends, hosts contests and promotions regularly. Prizes and giveaways range from Voice Credit to Mobile Recharge. The latter is a service that facilitates mobile credit top ups from one country to another. In other words, one can send mobile credit to a mobile in Haiti or elsewhere in less than 1 minute, using SalutHaiti.com from his/her laptop, PC, or smartphone.
SalutHaiti.com is a website dedicated to Haitians overseas and other people who need to communicate with Haiti or support people in Haiti from the distance. SalutHaiti.com was among the supporters of post earthquake efforts to rebuild Haiti. The platform is a brand of KeepCalling, with more than 10 years of experience on the global market. The mother company is a telecommunications business registered in 2002 in the USA, listed by Inc 5000 as one of the fastest growing companies in the USA for 5 consecutive years. Presently, KeepCalling provides its services to hundreds of thousands of consumers, with a focus on customer satisfaction.