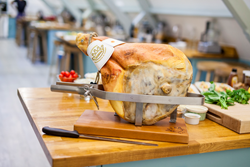 (PRWEB UK) 30 May 2017
A well-stocked larder makes it easy to whip up a recipe at any time. When adding Italian ingredients to the mix, a delicious meal is simple to cook, whether it's a feast for the family or a quick snack. From iconic products like Parma Ham and everyday staples like pasta, these are the essentials for a taste of La Dolce Vita. Here are six Italian products to keep in the kitchen.
1. Prosciutto di Parma
Parma Ham is one of the most well known products in Italy due to its quality and full-bodied flavour. Just four ingredients are essential to the production of Parma Ham: Italian pigs, salt, air and time. Full of protein and made with only natural ingredients, it's great for a variety of delicious recipes and pairings.
2. Pasta
When thinking of Italy, pasta comes straight to mind. It comes in all sorts of varieties and can be cooked in many different ways. It is definitely one of the most important Italian foods to keep in the kitchen due to its versatility and simplicity.
3. Cheese
There are many varieties of Italian cheese, but the best to keep on hand is Parmigiano Reggiano. Known as "The King of Cheeses", it is one of the world's oldest and richest cheeses. Parmigiano Reggiano is great when grated on pasta, shaved onto salads or eaten in chunks.
4. Extra Virgin Olive Oil
This oil comes from the first pressing of the olives and is the best quality. Drizzle it on fresh salads or use it to create tasty and flavoursome dressings.
5. Balsamic Vinegar
By adding a few drops of Balsamic Vinegar, food comes alive. It is a versatile vinegar produced in Modena. Look for Aceto Balsamico Tradizionale di Modena P.D.O. to drizzle onto dishes for added flavour.
6. Fresh Bread
To help soak up left over sauce or provide the perfect base for bruschetta, fresh Italian bread is definitely something to keep on hand.
Now it's time to cook as the Italians do. Here are three easy meals to make tonight.

For a classic antipasto, arrange three to four slices of Parma Ham on a plate, accompanied by Italian cheeses and bread.
To create an elegant salad, top mixed greens with slivers of Parma Ham and shavings of Parmigiano Reggiano.
Make an Italian-style panini by layering slices of Parma Ham on a crusty roll with fresh mozzarella, tomato slices and a sprinkling of olive oil.