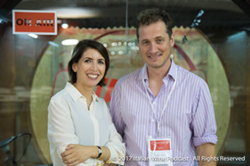 Podcasts are much more intimate and less distracting for the guest, and for listeners too. The Italian Wine Podcast aims to make Italian wine fun and accessible to listeners of any age group or level of expertise. (Monty Waldin)
(PRWEB) May 22, 2017
Italian Wine Podcast aims to inform, educate, and entertain about Italian wine through engaging conversations with "Italian Wine People." These personalities include not only wine producers, but also experts, writers, journalists, and various professionals orbiting the Italian wine scene in Italy and abroad. The podcast is an optimal medium for an engaging and non-invasive storytelling. "Podcasts are much more intimate and less distracting for the guest, and for listeners too," Monty Waldin says. "The Italian Wine Podcast aims to make Italian wine fun and accessible to listeners of any age group or level of expertise, more a window into the lives and activities of those who are involved in Italian wine, and their tips on how to get the most out of the Italian wine–and food–experience in easy to digest bite-sized chunks."
The "story" of Italian wine as told by Waldin and his interlocutors speaks of grape biodiversity (with Italy counting the largest number of native grape varieties in the world concentrated on its national territory), of century-long connections with Italian culture, gastronomy, landscape and lifestyle, and of an increasing success internationally. In recent episodes, Waldin talks to one of the leading experts of Italian wine: Ian D'Agata, Vinitaly International Academy Scientific Director and award-winning wine writer, whose book "Native Grape Varieties" is the recipient of the Louis Roederer International Wine Writers' Award in the category Book of the Year 2015. In an accessible yet informative way, D'Agata and Waldin introduce listeners to three notable Italian grape varietals, Aglianico, Sangiovese, and Glera, and the wines deriving from them.
In another episode, Waldin meets Deborah Brenner, the Founder and President of Women of the Vine and Spirits, an international association dedicated to women working in the alcohol beverage industry that recently inaugurated its European chapter in Verona, Italy, during Vinitaly. Brenner talks about the achievements of women in the wine industry and the challenges which they are facing around the world. Brenner states that the greatest achievement of the association is "coming together as a group, when you come together and you support each other and especially now that we are doing it globally, we are sharing best practices and I think this is number one thing to start any kind of change." In Italy, a new young generation of women working in the wine industry is also in the spotlight in some of the episodes: Karolina Walch of Elena Walch Winery in Alto Adige (South Tyrol) and Chiara De Iulis Pepe of Emidio Pepe Winery in Abruzzo to name a few. In these episodes Waldin brings out their distinctive personal and family story at the intersection of tradition and innovation: from Walch's sustainable viticulture and indigenous grape varieties developing at high altitudes, to Pepe's wine-making methods featuring grape-stomping and pergola trellising system.
Italian Wine Podcast has also added another important channel to reach its audiences: a new flagship website http://www.italianwinepodcast.com, where listeners can find all the episodes along with additional information about the project, instructions on how to subscribe to the various podcast channels, press releases, social media links, a photo gallery and more. With SoundCloud, iTunes and the new dedicated website, Italian Wine Podcast has laid a strong foundation and plans to expand soon on additional broadcasting channels.