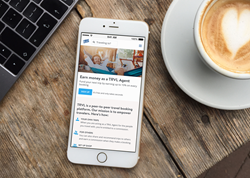 TRVL is TripAdvsior with an earning model
Amsterdam, Netherlands (PRWEB) May 25, 2017
TRVL.com is a peer-to-peer travel booking platform, where everyone can act as an amateur travel agent — applying their knowledge, experience and love for travel — and introduces an attractive earning model. Think of TRVL as TripAdvisor with an earning model. TRVL has been in beta testing for 9 months and is now launching to the public.
The founder and CEO of TRVL is Jochem Wijnands, who sold his previous company Prss, a mobile publishing platform, to Apple in 2014.
Jochem Wijnands: "When researching and planning a trip for the people you travel with or for others, or when sharing your tips and reviews, you're essentially doing the work of a travel agent. But you don't get rewarded for it. TRVL is going to change that."
"Artificial Intelligence is neat, but nothing beats a personal recommendation, from one human to another. That is still the most appreciated and most valuable travel advice there is."
Research confirms this:

Millennials rate "friends, family, and coworkers" as their most trusted source of information on where to stay when traveling (83% trustworthy). (Sabre company, July 2016).
Friends/family are a critical source of travel inspiration, second only to the internet. (Ipsos MediCT Study commissioned by Google).
TRVL's own research shows that 91.7% of the respondents value personal recommendations from friends highly or very highly (more results in this release).
The COO of TRVL is Arthur Hoffman. He is a travel industry veteran who set up businesses for Expedia in Australia, New Zealand, Japan, and India.
Arthur Hoffman: "TRVL is breaking down the traditional barriers of the travel industry by turning everybody into a TRVL Agent and introducing an earning model. Today we can find all hotels online, but how do we know which one is right for us? We often end up spending many nights behind our laptop, researching a destination, and building up enough confidence to make a booking. A personalized recommendation often helps us cut right to the chase."
Recent quotes from other industry veterans suggest that TRVL is solving an industry-wide problem:
Expedia CEO Dara Khosrowshahi thinks the travel industry will move back to the model of customers visiting a travel agent. A digital travel agent, that is. (Seattle Times, May 2016)
Trivago CEO Rolf Schrömgens says: "I think there is a major problem unsolved, and that is getting you into the ideal hotel. I don't think that is happening right now. There is a huge value that can be unlocked." (CNBC, Dec 2016).
How TRVL works:
Signing up as a TRVL Agent is free, and it only takes seconds. Anybody can sign up, as long as they are 18 years or older. The platform grants you access to 1.4 million hotels and vacation rentals and lets you earn a commission on every booking you make.
You can use TRVL to

Research and book trips for yourself and the people you're traveling with
Research, recommend, and share trips with others
Set up shop and run your own customizable travel booking website
TRVL's partners are Booking.com, Expedia-owned Hotels.com and TripAdvisor. TRVL expects to announce new partners and products in the coming months. TRVL receives a commission on every booking made through the platform and passes on the majority share of that commission to the TRVL Agent responsible for the booking.
TRVL Survey results:
Recently, TRVL sent its mailing list a questionnaire to which 1,066 people responded. Here are the most important results:
After making a booking online, 89.2% are not sure whether they have made the right choice.
75.3% completely or somewhat agree that they're spending too much time planning a trip, even the short ones.
When planning a trip, 84.2% completely or somewhat agree that the number of hotels to choose from can be overwhelming.
91.7% value personal recommendations from friends highly or very highly.
87.8% would be interested in earning money from their travel recommendations if their friends didn't end up paying more.
History:
TRVL started in 2010 as the first iPad exclusive magazine in the world. It then developed a mobile publishing platform called Prss, which was acquired by Apple in 2014 for an undisclosed amount. The team moved to California and helped build Apple News.
Founder story:
TRVL is the brainchild of the photographer, writer, and global wanderer Jochem Wijnands. He was a travel photographer for National Geographic and other global publications for 15 years. In 2010, he started TRVL as an iPad magazine and together with Michel Elings created Prss, which was acquired by Apple in 2014 and would later become Apple News.
The deciding moment was when Jochem, still living in California, was planning a vacation to Mexico. He asked his team at Apple for tips, and somebody came forward with a passionate story about a tiny village called Yelapa that could only be reached by boat. The hotel she recommended was simple but right on the beach, and it came with a natural pool. Two months later, when he found himself with his family, perfectly happy, on the crescent-shaped beach of Yelapa, a light bulb went off. He wondered where he would have ended up without this recommendation from another traveler and consequently decided to create a world where this type of travel advice would be available on demand.
TRVL mission:
TRVL's mission is to make travel better. Travel writer Pico Iyer compared travel to love, saying: "Travel is a heightened state of awareness, in which we are mindful, receptive, undimmed by familiarity and ready to be transformed." TRVL believes this to be true.
It explains why we love sharing our travel experiences. It is that classic traveler's conversation that we're all part of: "Where have you been? Any tips?" Your friends already ask you for travel tips, and you ask them. TRVL is – "Where have you been? Any tips?" – multiplied a million times.
This is a link to TRVL's video campaign "Why do we travel?"
https://vimeo.com/218059426
Team, location, funding:
TRVL's team of 12 is based in Amsterdam and Rotterdam (software). TRVL is funded by the same group of angel investors that had funded Prss before it was acquired by Apple. TRVL expects to announce news about its funding in June.
Contact + interview requests:
Alex Keynes
alex@trvl.com
Dropbox folder with TRVL Press material:
https://www.dropbox.com/sh/6o2zelxwgpce7h8/AABGO1vNm1zY2mKBL0uE3waoa?dl=0
End