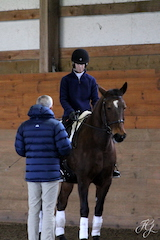 "Now, our athletes, who dream of competing on a national or world stage, have all of the tools they need to reach that dream." said Sarah Armentrout, Founder of Carlisle Academy
Lyman, Maine (PRWEB) May 24, 2017
The United States Olympic Committee has recognized Maine's Carlisle Academy as an official Paralympic Sports Club.
This is more than an honor for New England's premier integrative riding school. It connects the programs at Carlisle with the Paralympic Games, conducted immediately after the Olympics every four years.
Carlisle works with those with disabilities to develop equestrian skills through a number of training programs.
Carlisle Academy's main Paralympic training comes in the form of clinics, led by experts in dressage and driving from around the world. The most recent featured Michel Assouline, a French dressage champion. Assouline was recently appointed to be the head of para-equestrian coach development and high performance consultant by the United States Equestrian Federation (US Equestrian). Riders from around the United States came to Lyman in early May for the kind of instruction that could lead them to the Paralympic Games. Several more clinics are scheduled for this spring and summer.
As a recognized Paralympic Sports Club, Carlisle has access to the vast resource network of the U.S. Paralympics organization.
"We have been working steadily toward the goal of joining the Paralympic movement," said Sarah Armentrout, Carlisle, co-founder and executive director of Carlisle Academy. "Now, our athletes, who dream of competing on a national or world stage, have all of the tools they need to reach that dream."
Carlisle has also been recognized as one of only three International Para-equestrian centers of excellence by the leading organizations in the sport.
One of Carlisle's newest programs will bring the para-equestrian sport to veterans. In cooperation with the Veterans Administration's Adaptive Sports Grant Program, Carlisle will recruit veterans and train veterans through clinics. The program will also train coaches and coordinate the inclusion of para-equestrian competition in regional veterans-oriented games.
About Carlisle Academy
Carlisle Academy has been a long-time leader in its field and offers a range of equine-assisted therapy and sport programs. Since 2008, the Academy has provided services to disabled veterans, and this grant will expand on these offerings to build a national coaching and training pathway for eligible veterans to pursue their Paralympic sport dreams.
Carlisle Academy has a proven track record of grassroots support towards disabled athletes as they develop on their competition pathway. Sixty-two para-equestrians and 34 coaches from various states have participated in Carlisle's Para Equestrian camps and clinics over the past five years, with 15 of them continuing on as high-performance athletes at the national, international, and Paralympic level.
The United States Equestrian Federation (USEF) and the United States Para-Equestrian Association recently designated Carlisle Academy as one of three International Para-Equestrian Centers of Excellence for fostering growth in Para-Dressage and Para-Driving sports. "Carlisle Academy is an integral catalyst to the USEF in providing communication, leadership, and continuing education for Para-Equestrian athletes" states Laureen Johnson, USEF Director of Para Equestrian.
Carlisle is a Paralympic sport club, connecting people with disabilities to recognized Paralympic sports.
Carlisle Academy is also a Premier Accredited Riding Center of PATH International, which accounts for the equine therapy side of the operation. Through this VA grant and a resulting PATH collaboration, Carlisle will provide education to therapeutic riding instructors on Para Equestrian coaching techniques for disabled veterans.
Carlisle has invested considerable resources in Para-Equestrian experts who complement Carlisle's staff of therapists and instructors to help athletes and their coaches lay the foundation for success in Para-Dressage and Para-Driving. Scott Monroe, a carriage driving national champion and PATH Level 2 Therapeutic Driving Instructor with experience working with Para-Driving athletes, recently joined the Academy as an affiliate coach for driving clinics and lessons. As a veteran who served in the U.S. Marine Corps Mr. Monroe has a keen interest in working with wounded service men and women to develop their competition skills in Para-Driving.
The program was first established in 1998 as the Equest Therapeutic Riding Center, co-founded by Nick and Sarah Armentrout on their Spring Creek Farm in Lyman, Maine. For twelve years, the program served the community with first-rate equine-assisted activities and therapies to hundreds of children and adults with emotional, intellectual, and physical disabilities.
Looking through the lens of sustainability for the future years, a new business model emerged, and in 2011, Carlisle Academy Integrative Equine Therapy & Sports, LLC was launched building upon the success of Equest and its equine therapy programs, while expanding into new areas of field training and education and integrating able-bodied and para-equestrian sports. Today the program continues to be an industry leader in exceptional programming, innovative curricula, and sustainable business practices.
The Academy partners with the Carlisle Charitable Foundation, a non-profit charity which raising scholarship funds to support Carlisle Academy participants.
For more information on Carlisle Academy, visit http://carlisleacademymaine.com.