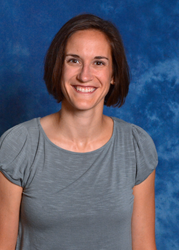 "It has truly been an honor to be a part of building this program, working alongside a creative and motivated group, providing a much-needed service for our community." Sarah Homitsky, MD
PITTSBURGH, Pa. (PRWEB) May 23, 2017
Allegheny Health Network and the Alexis Joy D'Achille Foundation announced today plans to open The Alexis Joy D'Achille Center for Women's Behavioral Health at West Penn Hospital, a unique facility that will offer the most comprehensive, state-of-the-art care available in western Pennsylvania for women suffering from pregnancy-related depression. Construction of the Center is underway with a scheduled opening in the fall of 2017.
The Alexis Joy D'Achille Center for Women's Behavioral Health will house in one setting a unique array of services currently offered to women at West Penn who are in need of treatment for perinatal depression, encompassing postpartum depression and depression during pregnancy. Few, if any, other centers in the U.S. provide such a wide range of treatments, from weekly therapy appointments, to an intensive outpatient program for women in need of a higher level of care, to a partial hospitalization program for women suffering from more severe forms of postpartum depression. All programs are family-focused and allow women to bring their babies with them to therapy sessions.
"The creation of the Alexis Joy D'Achille Center for Women's Behavioral Health is a dream come true," said Steven D'Achille, founder of the Alexis Joy D'Achille Foundation. "Our goal has been to break down barriers to care and ensure that all women suffering from perinatal depression are able to find the help they need. We believe that the innovative and accessible care offered by AHN at the Alexis Joy D'Achille Center will change women's lives and put their families on the best possible start to a happy future."
AHN and the Alexis Joy D'Achille Foundation first united in 2015, and the partnership is already is making a difference in the lives of many women through innovative, accessible care. More than 820 women have been referred to AHN Women's Behavioral Health program over the past 8 months, and more than 50 women are seen each month for initial evaluations. The program is staffed by a psychiatrist, psychologist, clinical social worker and nurse practitioner – all dedicated to the care of women with perinatal depression.
All AHN OBGYN practices now screen women for depression and bipolar disorder three times: twice during pregnancy and once after pregnancy. When screenings suggest a patient is suffering from depression, the information goes immediately to AHN psychiatry clinicians for a closer assessment and triage to therapy if needed.
"We are very proud to partner with the Alexis Joy Foundation to create the Alexis Joy Center for Women's Behavioral Health at AHN's West Penn Hospital," said Allan Klapper, MD, System Chair, Obstetrics and Gynecology, AHN. "With the completion of the Alexis Joy Center, AHN will offer a complete continuum of care, the scale of which we don't believe exists anywhere else in the U.S."
In December 2016, AHN opened its Mother-Baby Intensive Outpatient Program, unique to the Pittsburgh area and offered by only about 15 hospitals nationwide. Women attend three hours of group psychotherapy, three days a week, and also learn skills that improve the quality of the mother-infant relationship. Babies can remain with their moms during treatment, and husbands, partners or other support people may attend family sessions.
In addition to clinician's offices and the Intensive Outpatient Program, the new Alexis Joy D'Achille Center will house a Mother-Baby Partial Hospitalization Program, in which women with more severe forms of perinatal depression attend five-hour group therapy sessions five days a week. As with all of the Center's programs, mothers and babies may stay together during treatment. Full hospitalization, for mothers with the most severe forms of perinatal depression, will be offered at AHN's Forbes Hospital.
The Alexis Joy D'Achille Center will also include a kitchen, a supervised nursery with cribs and bassinets, and offices where patients can be seen for individual therapy.
"AHN's programs for the treatment of perinatal depression recognize that this disease impacts mothers, babies, partners, and entire families," said Frank Jans, PhD, Service Line Director, Psychiatry, AHN. "We believe the Alexis Joy D'Achille Center's programs could attract patients from beyond the tri-state area who are seeking the most personalized and innovative care available for perinatal depression."
The Alexis Joy D'Achille Foundation was created to raise awareness of postpartum depression, to assist women and their families in spotting warning signs, and support mental healthcare providers in Pittsburgh and beyond.
"As a Pittsburgh native, it has truly been an honor to be a part of building this program, working alongside such a creative and motivated group, providing a much needed service for our community," said Sarah Homitsky, MD, Medical Director, Women's Perinatal Psychiatry Program at West Penn Hospital. "The internal support at AHN has been more than I could have ever imagined. And the support from Steven and the foundation has been absolutely invaluable."
The West Penn Hospital Foundation also provided financial support toward the creation of the Alexis Joy D'Achille Center.
About the Allegheny Health Network:
Allegheny Health Network (AHN.ORG), part of Highmark Health, is an integrated healthcare delivery system serving the Western Pennsylvania region. The Network is comprised of eight hospitals, including its flagship academic medical center Allegheny General Hospital, Allegheny Valley Hospital, Canonsburg Hospital, Forbes Hospital, Jefferson Hospital, Saint Vincent Hospital, Westfield Memorial Hospital and West Penn Hospital; an employed physician organization, a research institute, health + wellness pavilions, home and community-based health services and a group purchasing organization. The Network employs approximately 17,000 people, and has more than 2,800 physicians on its medical staff. The Network also serves as a clinical campus for Temple University School of Medicine, Drexel University College of Medicine and the Lake Erie College of Osteopathic Medicine.