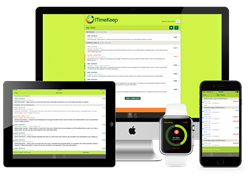 Having a solution that can be implemented in minutes without taxing our resources or needing massive changes to our existing infrastructure is a huge plus
Pittsburgh, PA (PRWEB) May 23, 2017
Bellefield Systems, LLC, the leader in mobile and anywhere time entry solutions for firms of all sizes, announced that Fowler White Burnett, a leading Florida full-service law firm, has chosen Bellefield's iTimeKeep as its firm-wide mobile time entry solution.
"It's a challenge to get attorneys to change, even when you point out the inefficiencies in their current methods," said David Tobin, Applications Development Manager with Fowler White Burnett. "In just the short time we've taken iTimeKeep firm-wide, we are pleased with how many of our attorneys became early adopters and embraced it on their mobile devices and desktops."
Tobin further stated, "Having a solution that can be implemented in minutes without taxing our resources or needing massive changes to our existing infrastructure is a huge plus. Their (Bellefield's) Customer Success team spent time in our offices working side by side with our attorneys to make sure they were up to speed with all the features and had all their questions answered."
"With attorneys spread across Florida, Fowler White Burnett understands that work is happening everywhere, at all hours, and it's not the best business practice to reconstruct time days or weeks later," stated Gabriela Isturiz, President & CEO of Bellefield Systems. "iTimeKeep continues to be the clear leader in mobile and anywhere timekeeping, as firms all over the world are looking for a way to give their professionals a solution that keeps up with them, not limits them."
After launching in 2012, iTimeKeep quickly became the most-widely used mobile time entry solution for attorneys. Today, Bellefield continues its relentless commitment to maintaining iTimeKeep's simplicity – allowing attorneys and other professionals to work the way they want to work, anytime, anywhere and any way through its Time Entry as a Service Model (TEaaS). The TEaaS model enables firms and their users to be up and running in a few hours without taxing the resources of the law firm with costly and complex hardware and software implementations. Bellefield's TEaaS model is transforming the way the modern professional services firm works.
About Fowler White Burnett: Fowler White Burnett is a full-service law firm with 3 offices located in Miami, Fort Lauderdale and Palm Beach. For nearly 75 years, they have skillfully combined traditional values with innovative practices to ensure their clients receive the trusted legal counsel reflective of their rich heritage. The firm's lawyers provide a wide variety of client-focused, proven legal strategies and business solutions to domestic and international clients across a wide spectrum of practice areas including: Arbitration, Alternative Dispute Resolution, Appellate, Aviation, Bankruptcy, Creditors' Rights & Business Restructuring, Commercial Litigation, Corporate, Environmental & Land Use, Family, Health Care, Immigration, Insurance, Intellectual Property, International, Labor & Employment, Maritime, Medical Malpractice, Products Liability & Toxic Torts, Real Estate, Securities Litigation & Arbitration, Tax, and Trust and Estates. For more information, please visit http://www.fowler-white.com.
About Bellefield Systems & iTimeKeep: Bellefield is committed to helping lawyers improve their work lives by developing innovative and intuitive applications that solve real-world challenges. Bellefield's flagship product iTimeKeep is built with a focus on three simple aims: security, simplicity, and increased revenue for firms. This game-changing mobile application simplifies contemporaneous time entry while eliminating the burdens of complicated and invasive time capture applications. It ranks #1 as the most adopted Mobile Time Entry solution for attorneys for the fourth consecutive year. Founded by software veterans Gabriela Isturiz, Daniel Garcia, and John Kuntz, Bellefield is an independent, privately held company headquartered in Pittsburgh, Pennsylvania. For more information, please visit Bellefield.com