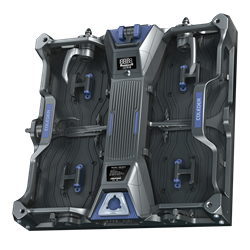 Whether it's a simple diode replacement or an issue that requires more advanced technical assistance, we want to ensure our customers that we will be there for them. - Derek Myers, Neoti President
Bluffton, IN (PRWEB) May 22, 2017
Continuing their reputation as a leading provider of the latest LED display technology, Neoti is proud to announce the recent opening of their LED repair and service center. Centrally-located in the U.S., and staffed by an experienced team of Neoti-certified technicians, this new center offers fast and affordable repair and service for all LED video displays, regardless of manufacturer or where the display was purchased. With the rapidly expanding LED display market, Neoti's aim is to maintain the integrity of installed displays and help minimize the impact of any subsequent downtime for end-users.
When an issue occurs, Neoti customers can now call up the LED repair and service center. If the problem cannot be solved over the phone, the customer can then send the product directly to the repair and service center so that Neoti's technicians can assess and fix the problem. This includes repairing or replacing diodes, modules, receiving cards, hub boards, power supplies, or anything else as necessary. For customers on very short timelines or with particularly critical equipment, such as broadcast television studios, Neoti offers support contracts which can include on-site repairs from their certified technicians.
"Meeting the needs of our customers has always been our highest priority, so we are excited to offer a flexible service option that can assist them with any technical problems that they may encounter," said Derek Myers, President of Neoti. "Whether it's a simple diode replacement or an issue that requires more advanced technical assistance, we want to ensure our customers that we will be there for them."
Customers have the option of paying for repairs as needed or purchasing one of Neoti's affordable and customized service contracts, which include up to five on-site support visits for any reason. Neoti will work closely with each customer to assess which options are best for them. Customers can call 877-356-3684 for a free phone consultation to get started.
About Neoti
Established in 2006 as an award-winning pioneer of innovative digital signage solutions, Neoti has evolved into an industry-leading provider of display technology and a value-added reseller for multiple tier one LED display manufacturers. Additionally, Neoti offers an in-house specialized LED repair and service center. By focusing on the best products available for each application and maintaining a strong dedication to their customers' vision, Neoti has set a new standard for custom LED display solutions.
Headquartered in Bluffton, Indiana, with an office in the New York metropolitan area, Neoti provides LED display solutions to a broad array of markets, including rental and staging, broadcast, higher education, sports, digital signage, control rooms, hospitality, houses of worship, retail, museums, and transportation.
More information can be found at http://www.neoti.com