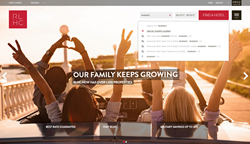 The new RLHC website streamlines the booking process for guests, making it easier to book a stay at any of our properties whether using their mobile phone or computer.
New York, ny (PRWEB) May 24, 2017
HeBS Digital announces the launch of a completely customized and enhanced brand website for RLHC (Red Lion Hotels Corporation). Featuring over 1,100 properties and 14 brands, this is one of the largest additions to HeBS Digital's diverse portfolio of hotel websites, and the companyis proud to share the results of months of dedicated work by dozens of team members across many departments.
"The complete RLHC portfolio of brands is now on one domain," said RLHC CMO Bill Linehan. "The new RLHC website streamlines the booking process for guests, making it easier to book a stay at any of our properties whether using their mobile phone or computer."
The new RLHC website is backed by HeBS Digital's award-winning, proprietary smartCMS® Website Technology Platform. Designed specifically for the hospitality industry, the smartCMS® drives direct booking via its more than 30 revenue-generating modules for need periods and occupancy demands by targeting feeder markets and market segments, past guest and in-market travelers via real-time control of content and promotions.
RLHC now has a website that is rich with direct bookings-focused functionalities, such as:

Advanced Merchandising Platform, allowing sharing functionality brand-properties and properties – brand for pushing specials, events, promo tiles, and press releases to hotels in a multi-property smartCMS website
Smart Personalization Engine to target users with one-to-one marketing messages and promotions, based on their demographic information, geo location, feeder market origin, loyalty member affiliation, etc.
Enhanced Geo Search widget with guided type-ahead for multi-property websites (including large nearby cities and airports)
Advanced search results with integrated Smart Rates – live real-time availability and rate information - for seamless booking experience with multiple booking engine providers and cross-sell opportunities
Ability for the user to filter and sort their search based on customer preferences for a tailored experience
Advanced Content Manager for the smartCMS to create and manage complex website content layouts
Enhanced Versioning System, supporting drafts, and approval workflows for multiple users of the smartCMS Website Technology Platform
Enhanced smartCMS website platform performance capable of supporting more than 2,000 hotels and more than 50,000 unique content pages from single website stack.
Highly-secure Cloud Hosting Platform, featuring a full-stack of automated download speed-enhancement tools and bandwidth scaling applications, CDN (Content Delivery Network) for lightning speed page downloads.
"Over 50 HeBS Digital employees poured their hearts and souls and creative minds into this project and worked very hard to complete the website on time and in scope," said HeBS Digital President and CEO Max Starkov. "HeBS Digital has been delivering enterprise multi-property hotel websites for over 15 years now, powered by our smartCMS Website Technology Platform, including 3 brand websites of public hospitality companies. This is the largest hotel website in the history of HeBS Digital, and we are honored to have been chosen by RLHC to deliver this great undertaking."
To explore the RLHC website visit RLHCo.com. To learn more about HeBS Digital and what the firm provides for its clients visit HeBSDigital.com.