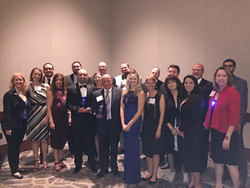 HNTB will continue to support WTS in its mission of advancing women's careers in transportation by providing opportunities for our female employees to take the lead on high-profile projects which help improve the region's infrastructure system
DALLAS (PRWEB) May 22, 2017
HNTB Corporation, an employee-owned infrastructure solutions firm serving public and private owners and contractors, has been selected Employer of the Year by the Greater Dallas/Fort Worth chapter of the Women's Transportation Seminar. The award was presented at a recognition dinner on April 28, 2017.
WTS is an international organization dedicated to building the future of transportation through the global advancement of women. It has more than 5,000 members, both women and men, in chapters located in the United States, Canada and the United Kingdom.
"We are honored to receive this recognition from WTS Dallas/Fort Worth," said Ramiro Garcia, PE, HNTB North Texas Operations manager and vice president. "HNTB will continue to support WTS in its mission of advancing women's careers in transportation by providing opportunities for our female employees to take the lead on high-profile projects which help improve the region's infrastructure system."
HNTB was selected for this award in part because of its commitment to providing women with leadership and growth opportunities. Approximately 50 percent of the leadership team in the firm's north Texas offices are female. Additionally, women have held key positions on recent high-profile projects that HNTB has been a part of in Dallas. This includes the DART SOC-3 project, a 2.6-mile extension to the DART Blue Line and CityMAP, a groundbreaking study that HNTB worked on with the Texas Department of Transportation to assess the challenges and opportunities of redesigning the aging urban interstate corridors in and around Dallas.
"The WTS Greater Dallas/Fort Worth chapter board recognizes the importance of honoring those who make a difference in the transportation industry, especially women," said Kimberly Sims, HNTB public involvement manager and WTS program director. "It is these companies and individuals who help the organization continue its work to turn glass ceilings into portals."
The Dallas/Fort Worth honor continues a three-year trend by HNTB to earn this award from local WTS chapters. In 2015, HNTB's New York office was named Employer of the Year by the Greater New York chapter of WTS and in 2016, HNTB's Chicago office received the same recognition from the Greater Chicago chapter.
Nationally, HNTB has more than 375 WTS members, including 20 female senior executives, and 35 of the firm's employees hold international, national- and chapter-level leadership positions in WTS.
About HNTB
HNTB Corporation is an employee-owned infrastructure solutions firm serving public and private owners and construction contractors. With more than a century of service in the United States and Texas, HNTB continues to grow in size and service offerings to clients from eight office locations, currently employing more than 400 full-time professionals in the state. HNTB understands the life cycle of infrastructure and addresses clients' most complex technical, financial and operational challenges. Professionals nationwide deliver a full range of infrastructure-related services, including award-winning planning, design, program management and construction management. For more information, visit http://www.hntb.com.