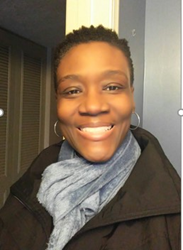 I am stepping out on faith that by taking on this new career, I will be productive again.
Lehi, Utah (PRWEB) May 23, 2017
Career Step, an online provider of career-focused education and professional training, and the National Military Family Association, a nonprofit that works to strengthen and protect military families, are pleased to announce Cassandra Duncan as the fourth recipient of Career Step's full-tuition scholarship. Ms. Duncan's husband is a retired OEF veteran.
A 2013 diagnosis of lupus brought Ms. Duncan's beloved career as a retail security manager to an abrupt and unplanned halt, and for the past three years, she has searched for a new livelihood. She said that Career Step's Medical Transcription and Editing program offers her the opportunity to join the workforce once more and to reclaim her independence and stability in a career that fits her new lifestyle.
"Everyone wants to belong, to be a part of something more than just existing," Ms. Duncan said. "When I became ill, I could no longer belong to the working world of people who get up every day and run off to the rat race… I have been physically limited but not mentally. I have to belong to the field of at home workers now."
In her application essay, Ms. Duncan listed several qualities that position her to succeed as a medical transcriptionist, including self-discipline, attention to detail, the ability to listen well, fast typing skills, professionalism, maturity, and a passion for productivity.
"I am stepping out on faith that by taking on this new career, I will be productive again," Ms. Duncan said. "I will be able to bless my family with the additional income. I will be able to build on my skill set and hold a certificate for a job I can take with me no matter I live. I will be able to use the skills I have gained to help an organization or doctor to maintain a high standard of excellence in documentation. There are so many factors in having stability in a job again, but it has to start with this first step."
Career Step will not be Ms. Duncan's first experience with online education. She completed an online degree more than a decade ago while her family was stationed in a small town in New York.
"I started in 2002, determined that since there were no jobs available in the small town, that I would continue my education so that I could be more marketable when we changed duty locations," she said. "Years later that personal investment in myself paid off when I was able to take top jobs for top pay."
"With this scholarship, Ms. Duncan will once again have the opportunity to invest in herself," said Career Step President and CEO Steve Tober. "Health problems can complicate an individual's world, and we admire the tenacity with which Cassandra Duncan has tackled her lupus diagnosis," Mr. Tober said. "We are thrilled to help her advance her career in a work-from-home capacity that will empower her to provide for her family and regain the fulfillment she had in her previous career."
Career Step has helped more than 15,000 military spouses and service members improve their education, many leveraging Career Step's MyCAA-approved school status. The company is an original member of the Department of Defense's Military Spouse Employment Partnership (MSEP) program and has been named a Military Friendly School™ for the past six years in a row. In December 2016, Career Step was recognized by the Office of the Secretary of Defense Employer Support of the Guard and Reserve (ESGR) for supporting employee participation in the National Guard and Reserve.
For more information about Career Step and the programs it has to offer, please visit http://www.careerstep.com.
About Career Step
Career Step is an online provider of career-focused education and professional training. The company has trained over 100,000 students for new careers as well as more than 100,000 healthcare professionals through its various continuing education courses. More than 150 colleges and universities nationwide have partnered with Career Step, and the company provides training for several of the largest and most respected healthcare employers in the nation. Career Step is committed to helping students and practicing healthcare professionals alike gain the skills they need to be successful in the workplace—improving lives, advancing careers and driving business results through education. More information can be found at http://www.careerstep.com or 1-800-246-7837.
About National Military Family Association
The National Military Family Association is the leading nonprofit dedicated to serving the families who stand behind the uniform. Since 1969, NMFA has worked to strengthen and protect millions of families through its advocacy and programs. They provide spouse scholarships, camps for military kids, and retreats for families reconnecting after deployment and for the families of the wounded, ill, or injured. NMFA serves the families of the currently serving, retired, wounded or fallen members of the Army, Navy, Marine Corps, Air Force, Coast Guard, and Commissioned Corps of the USPHS and NOAA. To get involved or to learn more, visit http://www.MilitaryFamily.org.