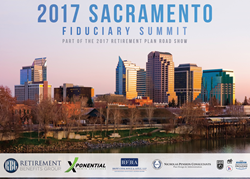 geared toward understanding how to navigate the upcoming changes to the retirement plan landscape. We are just 7 months away from the Department of Labor's new fiduciary regulations taking effect
Sacramento, CA (PRWEB) May 24, 2017
Xponential Growth Solutions is pleased to announce the 2017 Sacramento Fiduciary Summit. The summit is part of the national Retirement Plan Road Show, a series of educational workshops that will bring together both local and national expertise to interact with employers made up of Finance, Human Resources and Benefits executives, as well as Business Owners, Fiduciaries, and Plan Sponsors. Speakers will provide insights to help employers reduce fiduciary risk, identify plan upgrades, and make better decisions that positively impact participants.
The summit is hosted by Tony Franchimone of Retirement Benefits Group (RBG) who emphasizes, "RBG is pleased to host the upcoming 2017 Sacramento Fiduciary Summit. This event is geared toward understanding how to navigate the upcoming changes to the retirement plan landscape. We are weeks away from the Department of Labor's new fiduciary regulations taking effect. Come join us along with various industry experts to get a head start on preparing for the changes."
Local Guest Speakers:
Larry Deatherage, PRP®, AIF®, PPC, Principal – Retirement Benefits Group (RBG)
Andy Wass, CFO – Nicholas Pension Consultants
David Boyce & Nate Boyce, Audit Partners – BFBA
David Donaldson, Former Senior DOL Investigator, President & CEO – ERISA Smart
Michelle Giangrande, VP – T. Rowe Price
Special Guest Speaker:
Scott Harvey, Owner – Scott Harvey Wines, Napa Valley & Amador County
Topics of Discussion:
What Every Fiduciary Needs to Know
Ask the Experts – Local & National Professional Panel
Key Industry Trends Panel
Maximizing Participant Outcomes
RFP Best Practices
DOL Fiduciary Rule Update – How Does It Affect You as a Plan Sponsor?
Through The Eyes of a Former Senior DOL Investigator
Financial Wellness – Next Generation Solutions
What Does Fine Wine Craftsmanship Have in Common with Retirement Plans?
And more!
The 2017 Sacrmaneto Fiduciary Summit is a stop on the 2017 Retirement Plan Road Show and will be held on Wednesday, June 7, 2017 at Arden Hills Resort & Spa from 11:00 AM to 3:00 PM (lunch will be served). The 2017 Sacramento Fiduciary Summit is approved for 3 hours of CPE/CPA credits, HRCI/SPHR general credits, SHRM Professional Development Credits (PDCs), and is CEBS eligible. Seating is limited and local plan sponsors will receive priority registration. Additional details and registration information can be found on the registration page:
http://xgrowthsolutions.com/events/2017-sacramento-fiduciary-summit/
About Retirement Benefits Group (RBG)
Retirement Benefits Group is led by seven Principals, many of whom have over 20 individual years of experience in the retirement plan consulting industry. The firm was founded on the premise of offering independent retirement plan support and advice, and our specialists have been in business for decades. With affiliate offices throughout the country, RBG continues to spread those values nationwide. Our mandate, the very foundation on which we are built, is simple. People always come first. More than just a philosophy, our people-first approach drives everything we do. For us, it's about knowing your organization inside and out and making a commitment to your success. It means empowering--and motivating--your employees to reach their retirement goals. And it means doing business with the highest personal integrity.
About Xponential Growth Solutions:
Xponential Growth Solutions (XGS) unites 401(k), 403(b) and retirement plan sponsors with elite resources and exclusive connections. Through research, fiduciary summits, and industry expertise, they help the nation's retirement plan sponsors, fiduciaries, and trustees evaluate their plan and navigate the retirement plan industry.Working to help America reach their retirement goals one retirement plan at a time, XGS also founded the Retirement Plan Roadshow - a national series of fiduciary educational summits dedicated to human resources, finance and business professionals in charge of America's 401(k), 403(b), and retirement plans.