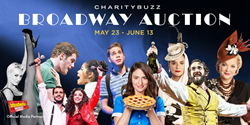 I'm proud to serve as Official Ambassador of the Broadway Auction because we are offering bidders some truly unforgettable theatre experiences... all while helping my friends and colleagues raise funds for important causes. - Sara Bareilles
New York, NY (PRWEB) May 23, 2017
Charitybuzz is pleased to announce the first ever curated Broadway Auction, part of the successful Charitybuzz Curates program, featuring bidding opportunities to meet Broadway's biggest names, exclusive backstage access at the Great White Way's hottest shows, VIP seats to standing-room-only engagements, and more—all to benefit charity. The Charitybuzz Broadway Auction runs May 23 - June 13 at Charitybuzz.com.
"I'm so excited to join Charitybuzz as they launch their first ever Broadway Auction," says Sara Bareilles, Official Broadway Auction Ambassador. "Over the last year opening and now starring in Waitress, I've been struck by the incredible generosity of the theatre community. I'm proud to serve as Official Ambassador of the Broadway Auction because we are offering bidders some truly unforgettable theatre experiences... all while helping my friends and colleagues raise funds for important causes."
"We're excited to host this first ever Broadway Auction at Charitybuzz," says Jan Friedlander Svendsen, Charity Network's Chief Marketing Officer. "Broadway has consistently been one of our most popular categories and I know our bidders will love the experiences included in this auction—all to support important causes. We're also thrilled to welcome BroadwayWorld, the largest and most comprehensive theater site on the web, on board as our Official Media Partner. And for her support of this auction, special thanks to Sara Bareilles, whose heart is a big as her talent."
Bidding is now open to be Rosie O'Donnell's guest at Hamilton followed by a backstage meet and greet with the cast, the chance at a special outgoing voicemail message recorded by Neil Patrick Harris, the opportunity to meet Bette Midler—and Donna Murphy—after a performance of the Tony Award-nominated Hello, Dolly! revival, front row seats to a special benefit reading of The Chalk Garden with the iconic Angela Lansbury, and lunch with award-winning stars Bernadette Peters and David Hyde Pierce, or with Vanessa Williams.
Fans can bid now to join 2017 Tony Award nominee Ben Platt backstage at Dear Evan Hansen, meet Broadway legends Christine Ebersole, Patti LuPone and John Dossett after a performance of War Paint, celebrate with a special champagne reception hosted by John Benjamin Hickey alogn with Allison Janney and Corey Hawkins after a performance of Six Degrees of Separation, meet Bianca Marroquin and Amra-Faye Wright stars of Chicago on Broadway, or to take a backstage tour with Betsy Wolfe at Waitress or Jenn Colella at Come From Away.
Also up for auction is a casting session with Emmy Award-nominated Casting Director Bernie Telsey, the chance to sit down with the head of the WME Theatre Department John Buzzetti, to meet Tony Award-winning director Julie Taymor or to dine with Tony Award-winning playwright David Henry Hwang before a preview of M. Butterfly, a coaching session with Tony Award winner Cady Huffman, or dinner with Pulitzer Prize-winning playwright Doug Wright.
An exclusive experience at nearly every show on Broadway is included in this auction, with once-in-a-lifetime opportunities at shows such as 1984; A Bronx Tale; Aladdin; Anastasia; Bandstand; Beautiful; CATS; Charlie And The Chocolate Factory; Chicago; Come From Away; Dear Evan Hansen; Groundhog Day; Hamilton; Hello, Dolly!; Indecent; Junk; Kinky Boots; M. Butterfly; Miss Saigon; Natasha, Pierre & The Great Comet Of 1812; On Your Feet!; Phantom of the Opera; School Of Rock; Six Degrees Of Separation; Sunset Boulevard; The Lion King; Waitress; War Paint; Wicked; and more!
The specially curated and one-of-a-kind experiences included in the Broadway Auction are helping to put charity center stage and raise important funds for a wide range of organizations including Robert F. Kennedy Human Rights, Rosie's Theater Kids, American Theatre Wing, The Acting Company, Gabrielle's Angel Foundation for Cancer Research, Teen Line, The Toby Project, The Kristen Ann Carr Fund, MCC Theater, Playwrights Horizons, Transport Group Theatre Company, Broadway Sings For Pride, New York Theatre Workshop and The Performing Arts Project, among others.
Additional Broadway experiences will be added throughout the auction.
BroadwayWorld serves as the official media partner of the Charitybuzz Broadway Auction.
The Broadway Auction is the third in a new series of specially curated auctions hosted on Charitybuzz.com to help charities raise even more money for worthy causes all year long. The remaining 2017 schedule includes Charitybuzz Curates: Fashion - August 8–24, Charitybuzz Curates: Hollywood - October 3–19, and Charitybuzz Curates: Entrepreneurs - November 1–16.
This year's first two curated auctions, Charitybuzz Curates: Music and Charitybuzz Curates: Golf raised in total more than $920,000 for charity partners.
# # #
About Charitybuzz
Charitybuzz raises funds for nonprofits around the globe through online auctions with the world's most recognizable celebrities and brands. Featuring access to acclaimed actors and musicians, business and political leaders, sports stars, luxury travel, couture fashion, rare memorabilia, and more, Charitybuzz brings its online community of bidders exclusive opportunities to live their dreams and make a difference. Since launching, Charitybuzz has raised more than $200 million for charity. Its roster of celebrity supporters includes President Clinton, Sir Paul McCartney, Tim Cook, Mick Jagger, Warren Buffet, Robert Downey Jr., Taylor Swift, Ralph Lauren, Mayor Mike Bloomberg, Barbra Streisand, Howard Stern, Chevy Chase, Billy Joel, HBO, Victoria's Secret, Justin Bieber, Lady Gaga, John Varvatos, David Yurman, Bruce Springsteen, Hugh Jackman, and Beyoncé.
Charitybuzz is a member of Charity Network, which also includes Chideo, a charity video network, and charity online sweepstakes platform, Prizeo. To learn more, visit charitybuzz.com.
facebook.com/charitybuzz
twitter.com/charitybuzz
About Charity Network
Charity Network, named one of Fast Company's 2017 Most Innovative Companies, harnesses the power of celebrity, technology, and media to raise awareness and funds for some of the world's toughest challenges. With a mission to complement traditional fundraising models and help charities transition from analog to digital, Charity Network has raised hundreds of millions of dollars for causes across the globe. Launched in 2016 by entrepreneur Todd Wagner, Charity Network is the parent company to three top digital fundraising platforms: Charitybuzz, Chideo, and Prizeo. Each platform is a leader in its own field: Charitybuzz in online charity auctions, Prizeo in online sweepstakes and experiences, and Chideo in cause and entertainment content. These three consumer-facing platforms, all working in tandem, reach a broad and diverse group of donors from millennials to baby boomers through a network of syndicated partners including Sinclair Broadcast Group, Tribune Company, The Ellen DeGeneres Show, Twitter, Delta Airlines, and more. Together with its partners, Charity Network can amplify a cause message to reach over 80% of US TV households and more than 100 million unique visitors each month. To learn more please visit charitynetwork.com.