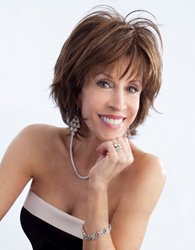 These special shows have all the essentials of classic concert entertainment
(PRWEB) May 24, 2017
Deana Martin fans will love this special show honoring her father, the King of Cool Dean Martin on the anniversary of his 100th birthday. Martin will be performing two spectacular shows as part of her acclaimed Deana Sings Dino concert series, with special guests, The Golddiggers and … who knows who will walk through the "Surprise Guest Door." Show dates are June 23rd and June 24th at the Showroom at South Point Casino in Las Vegas, NV.
From the moment she walks on stage, Deana Martin takes her audience on a musical journey with her non-stop dynamic energy celebrating her legendary father Dean Martin and other great performers who shaped American music and popular culture for over four decades. Deana Sings Dino is a totally engaging, classy and contemporary presentation of the most beloved songs of all time, capturing the swinging sophistication associated with her Dad and the Rat Pack.
In this electrifying musical revue, Deana Martin sings hot new arrangements of enduring hits like, That's Amore, Volare, That's Life, Everybody Loves Somebody, Memories Are Made Of This – songs treasured worldwide by her fans and those of her father, "Uncle Frank" Sinatra and "Uncle Sammy" Davis Jr.
These special shows have all the essentials of classic concert entertainment: the world's best music, personal and often hilarious recollections from Deana's life and career, interaction with her audience, plus her innate musicianship. Deana Martin is undeniably authentic¬¬¬ – a living connection to the greatest era in entertainment.
The two shows will precede the Deana Martin Celebrity Roast to be held on June 26th also at the South Point Casino. The 'Man of the Hour' will be Las Vegas's own Dennis Bono, singer, entertainer, and host of 'The Dennis Bono Show.' Proceeds from this event to benefit 'Opportunity Village.'
As an internationally acclaimed entertainer, Deana Martin has become an instantly recognizable voice and figure in the pantheon of The Great American Songbook. Her 2006 debut CD release, Memories Are Made of This, stayed in the top ten for 40 consecutive weeks. Her follow-up CD, 2009's, Volare, debuted in the top ten of the Billboard charts, followed by 2011's seasonal evergreen, White Christmas, 2013's critically acclaimed, Destination Moon, and her latest, 2016's Swing Street, has garnered airplay on top Jazz, Standards and Country radio stations, emphasizing her prominent status as a hit recording artist. As a celebrated author, Deana found herself on the New York Times coveted Best Seller list with her 2004 memoir, Memories Are Made of This: Dean Martin Through His Daughters Eyes. In it, Deana delights in sharing wonderful, never-before-told stories about her father and his Pallies. To her they were known as, Uncle Frank (Sinatra) and Uncle Sammy (Davis, Jr) – to the world, they were known as the Rat Pack.
DEANA SINGS DINO
Celebrating Dean Martin's 100th Birthday Anniversary
June 23rd, June 24th
'The Showroom' at the South Point Casino
9777 S. Las Vegas Blvd.
Las Vegas, NV
7:30pm
For ticket information on Deana Martin in 'DEANA SINGS DINO'-Celebrating Dean Martin's 100TH at the South Point Casino, please visit: http://southpointcasino.com/entertainment/showroom