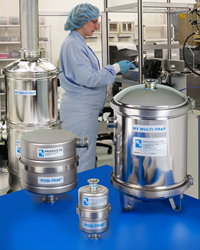 North Billerica, MA (PRWEB) May 24, 2017
MV Products has introduced a full line of vacuum pump inlet traps that can be customized by users to protect the vacuum pumps and lines on atomic layer deposition (ALD) tools from particulates and unreacted precursors.
MV Vacuum Inlet Traps for ALD processes can be easily customized by users to remove all process byproducts from precursors such as TMA, TiCl, DeZ, and H2S including particulates and unreacted precursors. Suitable for the manufacturing of ICs, MEMS, LEDs and OLEDs, optics, displays, batteries, and more, these stainless steel traps are offered in sizes for protecting vacuum pumps and lines with flow rates from 25 to 2000 CFM.
Available for both research and production applications, MV Vacuum Inlet Traps for ALD processes Traps range from 4" to 16" dia. with port sizes from NW-25 to ISO-160 and use interchangeable filter elements. Filter types include stainless steel gauze for particle filtration, activated charcoal for unreacted cursor adsorption, Sodasorb® for acid neutralization, and Sulfatreat® for H2S neutralization.
MV Vacuum Inlet Traps for ALD processes are priced from $249.95 to $4,799.00, depending upon configuration. Price quotations are available on request.
Protecting vacuum pumps, people and the environment, MV Products is a division of Mass-Vac, Inc. was founded in 1971 to serve customers in need of vacuum pump support and service. After years of field experience rebuilding vacuum pumps and analyzing the reasons why they failed, along with extensive research and development the MV Products division was created. MV Products manufactures a complete line of vacuum inlet traps, exhaust traps, mist eliminators, and oil filtration systems for a wide range of manufacturing, laboratory, and commercial applications including universities and hospitals.
Mass-Vac, Inc. specializes in solving the process contamination problems associated vacuum systems that are used with processes such as MOCVD, HVPE, PECVD, or LPCVD which generate high volumes of particulates. These processes, of course, are used in manufacturing green products such as solar cells, HB-LEDs, and Li-Ion batteries. Mass-Vac, Inc. is an active member of SEMI and the American Vacuum Society.
For more information contact:
MV Products, Division of Mass-Vac, Inc.
David Rolph, Vice President Sales
247 Rangeway Rd. / P.O. Box 359
No. Billerica, MA 01862
(978) 667-2393 FAX (978) 671-0014
e-mail: drolph(at)massvac(dot)com
http://www.massvac.com