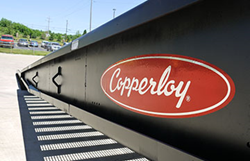 Copperloy's one centrally located cylinder guarantees that the ramp will rise evenly every time.
Twinsburg, Ohio (PRWEB) May 24, 2017
Copperloy announces exciting time-saving enhancements to its lineup of OHSA-compliant industrial yard ramps for loading and unloading. Already convenient and safety-focused, the company's ramps now offer a variety of new features to make them even more efficient for material handling needs at factories and warehouse facilities.
Copperloy's revamped, one-cylinder design uses less pressure to lift the ramp when compared to traditional yard ramps with two-cylinder hydraulic systems. This allows for not only easier operation, but faster raise time as well—up to two-and-a-half times faster than the average industry ramp.
A traditional two-cylinder pump can raise unevenly due to a variety of conditions, including general wear. Copperloy's one centrally located cylinder guarantees that the ramp will rise evenly every time.
"Yard ramp safety has always been a top concern," says Copperloy's Vice President of Operations John Hallack. "Our new design also provides greater stability because our hydraulic system is disengaged while the ramp is in use. This allows the ramp to work in unison with raising and lowering of the truck."
In addition, rethinking the hydraulic system also led to the following improvements:

Pump location on the outside of the ramp frame allows for easy access at all times.
Solid-filled pneumatic tires can handle rugged terrain without the potential for punctures or air pressure problems.
Rotation occurs on the redesigned positioning sleeve instead of the ramp connection, reducing wear on the ramp structure.
Position sleeve has three points of connection, which greatly reduces the likelihood of it disconnecting during irregular maneuvers.
Watch the comparison video showcasing the time-saving efficiency of Copperloy's redesigned yard ramp versus standard industry ramps. Contact Copperloy to find out more about the benefits of one-cylinder hydraulic yard ramps.
About Copperloy
For over 60 years, Copperloy has been the leader in manufacturing quality, durable loading dock equipment for material handling. All products are manufactured to meet applicable industry and safety standards, including mobile ramps, dock boards, loading dock lifts and more.