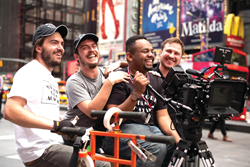 New York, New York (PRWEB) May 22, 2017
New York Film Academy (NYFA) has teamed up with RED Digital Cinema in its ongoing effort to provide students and graduates with cutting-edge technology. The partnership comes under the form of a competition, the RED Competition, whose grand prize features a RED EPIC-W 8K S35.
The partnership affords NYFA students and graduates the unique opportunity to showcase their one-year projects or thesis films shot entirely on RED cameras as well as the chance to win the cutting-edge technology employed in today's industry.
A jury assembled by RED will select the winning films, which will be announced July 8, 2017. Prizes include:

Grand Prize for Best Cinematography: The NYFA cinematographer / NYFA student or alumnus who filmed the winning film will win a RED EPIC-W
Filmmaker's Prize (Director or Producer): If the director or producer of the winning film is a NYFA student or alumnus, RED will provide him or her with a Filmmaker's Prize — a free camera rental for 3 weeks of one of RED's new DSMC2 cameras
Audience Award: The NYFA cinematographer of the film that wins the audience award will receive a REDucation voucher ($1,500 value)
The submission deadline is May 24, 2017.
Full Terms and Conditions can be found at nyfa.edu/red
NYFA has a long-standing relationship with RED, whose cameras are used in classrooms as well as programs like NYFA's Industry Lab, where students and graduates work on major projects for professional clients. The Academy's hands-on approach to learning has students working with industry standard equipment from the first day of classes. Filmmaking students not only write, direct, edit, and produce their own films but also work as directors of photography, assistant camera person, gaffer/grip in order to gain a complete technical understanding of filmmaking. This standard of teaching affords students experience and knowledge of the technology they would be expected to use in professional settings.
About New York Film Academy
With locations all around the world, the New York Film Academy has grown into an international film and performing arts school with a focus on learning by doing, providing its students with hands-on instruction. Students can choose to enroll in one of the Academy's MFA, MA, BFA, BA, and AFA U.S. accredited degree programs and short-term workshops in filmmaking, acting for film, photography, producing, 3D animation, cinematography, screenwriting, documentary filmmaking, game design, musical theatre, broadcast journalism, music video, graphic design, and digital editing.
With more than 8,000 students from over 100 countries, NYFA offers courses in New York City, Los Angeles, South Beach (Miami), Sydney & Gold Coast in Australia, Florence, Mumbai, and more.
Steven Spielberg, Martin Scorsese, Bruce Springsteen, Al Pacino, Robert Downey Jr., Kevin James, Jamie Foxx, and Jodie Foster are among the many figures in the film industry that have sent their family members to study at the New York Film Academy. For more information, please visit nyfa.edu.
About RED Digital Cinema
RED Digital Cinema is a leading manufacturer of professional digital cameras and accessories. In 2006, RED began a revolution with the 4K RED ONE digital cinema camera. By 2008, RED released the DSMC (Digital Stills and Motion Camera) system that allowed the same camera to be used on features like the "The Hobbit" trilogy and "The Martian," Emmy-winning shows like "House of Cards," and magazine covers such as Vogue and Harper's Bazaar. The cameras of RED's DSMC2 line — RED RAVEN, SCARLET-W, RED EPIC-W, and WEAPON — combine compact and lightweight design, superior image quality, incredible dynamic range, modularity, and cutting edge performance — including up to resolution. In 2017, RED's newest 8K sensor, HELIUM, set the new image quality standard with the highest DxOMark score ever.