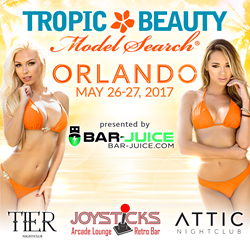 The Tropicbeauty Opportunity creates lasting friendships, life skills, industry networking, stepping stone to success, and empowerment for each other.
Orlando, Florida (PRWEB) May 23, 2017
Friday May 26, 2017 from 10PM - 2AM the Tropicbeauty Model hopefuls will Host the Sponsors at The Attic, 68 E Pine Street, Orlando, FL 32801. http://www.theatticorlando.com For Table reservations call 407-403-1161. Come meet the Calendar Models and get a signed copy of the Beautiful Wall Calendar Featuring Orlando native Ashley Gilbert - Miss May 2017! The event is underwritten by http://www.Bar-Juice.com the secure solution to keep your phone charged while out on the town!
Saturday May 27, 2017 from 1PM - 4PM the group heads out to Joysticks Arcade Lounge and Retro Bar, 69 E Pine Street, Orlando, FL 32801 (407) 613-5007. http://www.joysticksorlando.com Tropicbeauty will conduct their photoshoot and their swimwear competition official judging. 20-30 models will be in attendance.
Juice'd Orlando http://www.juicedorlando.com will then host the models for lunch and cold pressed juices at their 12 N. Summerlin Ave, Orlando location until 5PM.
The Awards Celebration will conclude the event Saturday May 27th at 10PM - 2AM at Tier Nightclub http://www.tiernightclub.com for tables call 407-222-9732. 20 E Central Ave, Orlando, FL 32801. Join us to receive your complimentary wall calendar and cheer on your favorite contestant. A great way to start your Memorial Day Weekend !
Special thanks to the Event sponsors: http://www.bar-juice.com, http://www.devotedcreations.com, http://selfieglow.com, http://www.180medspa.com, http://www.juicedorlando.com, http://www.zurayoga.com, http://www.vidaessentials.com, http://www.miamimodelcitizens.com, http://www.sizeslim.com, http://www.kimerakoffee.com, plus other wonderful prizes from Nikkay Fashions, Flawless by Friday, Sterling Rice Originals, Hoven Vision and Puppies Make Me Happy.
http://www.tropicbeauty.com newly updated website will feature many of the success stories from the years of the company history including 3 of the 35 contestants that were recently selected by http://www.SI.com/swimsuit current Casting; Dessie Mitcheson, Kayla Fitz, and Steph MI! TropicBeauty is honored to have been a stepping stone for these models and so many more!
To follow the excitement check out https://www.facebook.com/TropicBeautyModels/