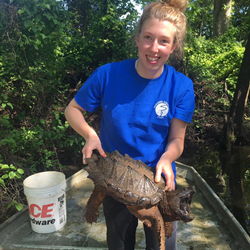 "Turtles are one of the most imperiled vertebrate groups on earth" - Dr. Josh Ennen, Tennessee Aquarium Conservation Institute aquatic conservation biologist.
Chattanooga, TN (PRWEB) May 22, 2017
Braving chest-deep water, boot-sucking mud and punishing heat in the cypress swamps of West Tennessee, biologists from the Tennessee Aquarium Conservation Institute and several partner organizations are trying to determine whether a dinosaur-like turtle could be on the downward slide to extinction.
The Alligator Snapping Turtle is North America's largest freshwater turtle species. In the mid-20th century, it was heavily harvested for its meat, and wild turtles are still being removed to supply the pet trade in the U.S. and Southeast Asia. After weathering decades of these parallel threats, no one is quite sure how many Alligator Snapping Turtles remain in Tennessee.
Determining the population health of this shelled behemoth is a priority for the United States Fish and Wildlife Service, which is considering listing the Alligator Snapping Turtle under the Endangered Species Act. To determine whether this tri-ridged, fierce-beaked reptile warrants that designation, the service has enlisted the help of scientists to seek it out in its native swamps and rivers.
In April 2016, Tennessee Aquarium Conservation Institute biologist Dr. Josh Ennen and representatives from the Tennessee Wildlife Resources Agency and Southern Missouri State University began a three-year research project to evaluate the distribution and population status of Alligator Snapping Turtles in West Tennessee.
Using passive integrated transponder (PIT) tags, the researchers are able to uniquely identify any turtles they recover. By visiting the same locations over time and rescanning the turtles they capture, researchers will be able to estimate population numbers in a given area.
Alligator Snapping Turtles have struggled against many threats, but fighting to survive is a position in which many turtles find themselves. About half of all turtles species are designated as some degree of vulnerable.
"Turtles are one of the most-imperiled vertebrate groups," Ennen explains. "They have the kind of life history that you can't overexploit populations because they're long-lived and slow to mature, so they can't keep up with that kind of harvesting pressure."
As they conduct their population assessment, researchers also are gathering data to determine whether Alligator Snapping Turtles and other species with which they share their habitat are becoming unsafe for human consumption due to the build-up of mercury and other dangerous substances in their bodies.
Particularly due to their longevity, turtles can serve as a kind of long-term litmus test for environmental conditions. By analyzing clippings of turtles' claws, researchers can evaluate the concentration of toxic heavy metals in the surrounding habitat.
If those levels are determined to be dangerously high, it could reflect a general downward trend in local water quality. Ironically, Ennen says, Alligator Snapping Turtles that survived being hunted or captured for the pet trade could be preserved thanks to environmental contamination that renders them unsafe to eat.
"Those toxicity levels will serve as an indicator of what the water is like, both for other animals and for humans as well," Ennen says. "Turtles can be bio-indicator species, so if there's a contamination issue with turtles, you can have a contamination issue with fish and other animals."
Moving ahead, Ennen says, the hope is to seek an extension for the project to investigate rivers and swamps in Middle Tennessee and, in the near future, to begin using radio tracking to better understand the habitat use of juvenile Alligator Snapping Turtles in the study area.
"We need to know where this species is found in the landscape and how it utilizes the habitat where it is found," he says. "By extending our research of these long-lived animals, we'll be able to develop a more complete picture of their numbers and individual health. That way, we'll be better prepared to write a recovery plan if we determine these turtles should be listed as endangered."
About Alligator Snapping Turtles

Males are considerably larger than females, topping out at 200 pounds with a carapace (shell) length of 31 inches.
The Tennessee Aquarium's male Alligator Snapping Turtle tips the scales at more than 140 pounds.
They lack the distinctly saw-toothed tail of the Common Snapping Turtle, whose range is far broader, encompassing the entire Eastern U.S.
An omnivorous species, it has a varied diet, including nuts and berries, snakes, salamanders, muskrats and even small alligators.
It is the only turtle with a distinctive, worm-like tongue, which it wiggles to attract prey.
Almost entirely aquatic, it rarely leaves the water, except to nest, where females lay a clutch of 10-60 eggs.