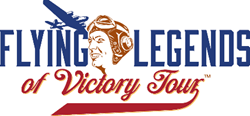 Mesa, Arizona (PRWEB) May 23, 2017
Two of the most iconic airplanes from World War II, B-17 Bomber "Sentimental Journey" and B-25 Mitchell "Maid in the Shade," will depart on separate routes throughout the U.S. and Canada this summer for the Flying Legends of Victory Tour. The tour, made possible by the volunteers of the non-profit 501(c)3 Arizona Commemorative Air Force Museum, will visit nearly 50 cities from June to October.
At each tour stop, the public will have the opportunity to climb aboard the airplane to soak in the breathtaking stories of courage and service by Americans during some of the most important periods in U.S. history. The Museum's mission is to educate others about the incredible machines and heroes in combat aviation history.
Tours cost $10 per person and $20 for a family of four (NOTE: In Canada, it will be $14 per person and $28 for a family of four). Seats on the B-17 are $425 USD per waist compartment seat and $850 USD for bombardier/navigator seats in the nose and are limited to 8 passengers per flight. Seats on the B-25 are $325 USD per waist gunner compartment seat or $650 USD for flight deck jump seat and are limited to seven passengers per flight. Ride reservations are required.
For a complete Flying Legends of Victory tour schedule, pricing information, and to book your seat, visit http://www.FlyingLegendsofVictory.com.
About the Arizona Commemorative Air Force Museum (AZCAF) – Mesa, Arizona:
AZCAF was founded in 1977 and is the 10th chapter of the Commemorative Air Force. It's comprised of 500 member volunteers and seven flyable warbirds that offer Living History rides. The fully-restored and rare B-17 and B-25 Bombers and C-47/DC-3 Combat Legend conduct the Flying Legends of Victory Summer tour and visit approximately 50 cities throughout the United States and Canada. The AZCAF has 55,000 square feet of historical airplanes, relics, and educational exhibits, in addition to a working mechanics hangar. A Trip-Advisor Winner of Excellence, it's one of the top-rated adventure attractions in Phoenix and regularly conducts tours for schools, businesses, and youth groups. http://www.azcaf.org
About the B-17 Bomber:
Built in 1944, the B-17 "Sentimental Journey" is only one of 10 B-17s in the world that is still flying out of almost 13,000 produced from 1936 to 1945. 8,000 of them were lost in combat. The aircraft, developed by Boeing, was used in every theater of war from 1941 to 1945. The "Sentimental Journey" was originally manufactured and delivered to the U.S. Army Air Forces for war service in 1944 where she flew missions in the Pacific Theater. After the war she flew for training, testing and at-sea rescue missions and was eventually sold for surplus and used as a fire bomber. In 1978, the aircraft was purchased by a Commemorative Air Force (CAF) member and donated to the newly formed Arizona unit of the world-famous CAF. She was meticulously restored, maintained in tip-top condition, and is operated by all-volunteer crews from the membership of the Arizona Commemorative Air Force Museum.
About the B-25 Bomber:
Built in 1944, the B-25 "Maid in the Shade" was developed by North American Aviation and used mainly as a low altitude strafe and skip bomber. Nearly 10,000 B-25s were produced and the B-25 Mitchell "Maid in the Shade" is one of 34 still flying today. The aircraft was used in America's first large-scale bombing offensive in the Philippines and sunk eight ships and shot down five planes. The B-25 is most remembered for the Doolittle Raid on Japan where Jimmy Doolittle led 16 B-25s across Japan bombing targets. This aircraft has flown 15 combat missions from November 1 through December 31, 1944 including 13 over Italy and two over Yugoslavia.
About the Commemorative Air Force; Dallas, TX Headquarters
The Commemorative Air Force (CAF) honors the men and women who built, maintained, and flew in airplanes during wartime. The organization believes that is best accomplished by maintaining these warbirds in flying condition and taking them to people to experience the sights and sounds of these treasured beauties in flight.
Collecting, restoring, and flying vintage historical aircraft for more than half a century, the Commemorative Air Force ranks as one of the largest private air forces in the world. The CAF is dedicated to Honoring American Military Aviation through flight, exhibition, and remembrance. A non-profit educational organization, the CAF has more than 13,000 members and a fleet of 165 airplanes distributed throughout the country to 76 CAF units for care and operation. There are also four international affiliates in France, Switzerland, New Zealand, and Australia. For more information, visit http://www.commemorativeairforce.org.
###