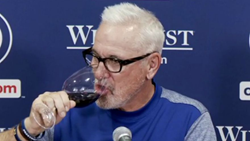 Sonoma, California (PRWEB) May 24, 2017
When Chicago Cubs Manager Joe Maddon met the media Tuesday night following his 1000th career win, he opened the press conference by raising a glass of Big Smooth. "It really is big and smooth," proclaimed the legendary manager on live television.
In what may be a first in Major League Baseball, the familiar sports drink on the lectern was replaced by an elegant piece of stemware filled with Big Smooth, the bold, full-bodied yet velvety-soft red wine from Don Sebastiani & Sons. "Cheers," said Maddon, savoring a sip from the glass. "It's actually something called Big Smooth."
Big Smooth wines are produced by Don Sebastiani & Sons, the pioneering, Sonoma-based producer of innovative wines and food products. The family-owned company offers two varieties of Big Smooth, each bearing a distinctive plush velvet label: a deep purple Old Vine Zinfandel and a dark red Cabernet Sauvignon. Both wines are produced from grapes grown in the Lodi AVA, a region located between the Sierra Foothills and the San Francisco Bay, where big, flavorful wines thrive.
Before taking reporters' questions about his historic win, Maddon paused to savor both the victory and the wine. "[Bullpen] Coach Lester Strode gave us a bottle for the plane ride," explained Maddon. "I brought it in and it's actually very good. It's got this velvet label on it and I guess they can't keep it on the shelf primarily because of the label, however the juice is good also. It's from Lodi, and we've all played in Lodi at some point…so it's kind of cool drinking a glass of the Big Smooth from Lodi."
Joe Maddon, architect of the team's 2016 World Series championship, was celebrating the Cubs' 9-5 victory over the Cincinnati Reds on Tuesday, his 1000th career win as a Major League Baseball manager. Maddon is known as a wine connoisseur off the field, so it's no wonder he appreciates a wine that is, like his championship team, both big and smooth.
Big Smooth wines are available in select restaurants and retail outlets nationwide. A limited quantity is also available for purchase on bigsmoothwines.com.
About Don Sebastiani & Sons:
Don Sebastiani & Sons is a family-owned company rooted in the Sonoma Valley, with a winery in the Napa Valley. Since 1904, the family's adventures have often included making and marketing products complementary to wine, and today, products range from wine to water and tequila, to pistachios, almonds, and cashews, all sourced from premier growing regions throughout the world--natural, healthy beverages and foods to complement life's special occasions and celebrations with family and friends. The company was recently named one of the Best Places to Work by the North Bay Business Journal for the fourth consecutive year.
Today, fourth-generation proprietor Donny Sebastiani is expanding his family's vision to include other aspects of the "Mediterranean Diet" to create a "Happy Hour At Home," with such products as:

Small-lot, single-vineyard wines from Sonoma. Including Chardonnay grown on Donny Sebastiani's home ranch.
Premium, seasoned almonds, pistachios and cashews called U Gottabee Nutz.
Organic flavored sparkling water: AquaJava, AquaKola and AquaMocha.
Craft 100% Blue Weber agave Tequilas grown and hand-made in Jalisco, Mexico: Contigo Plata, El Fumador Reposado, and El Macho Anejo.
For more information about the company, visit http://donsebastianiandsons.com.
For further media information please contact:
Karen MacKenzie
707-545-3280
mackenzie(at)mackenzieagency.com