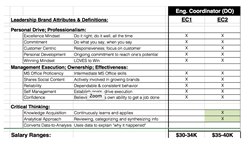 High performers are like throughbred horses – they must run.
Dallas, TX (PRWEB) May 23, 2017
Investment firm, Share On Purpose, announces the new Share School Online Learning Portal. The online portal allows convenient access to specialized training for employees in order to develop leadership skills.
"Developing talent is my number one priority. With the rapid growth of several of our brands, we need authentic leaders to spearhead departments for us," says Terri Maxwell, CEO of Share on Purpose. "We promote primarily from within, so preparing leaders is critical to our growth. It is the quality of our leaders that will determine our success."
The company launched its Share School development program in early 2016 to prepare for significant growth. The executive team prioritized the expansion of training from weekly in-person sessions and small leadership coaching classes to a world-class interactive online training portal. The goal was to provide leadership training more frequently, so emerging leaders could advance their careers more quickly.
Share On Purpose dropped the traditional process of annual reviews and opted for the "Career Matrix" (developed by Talent On Purpose), which lays out the specific skills each associate must master in order for promotion. The Career Matrix also outlines clear salary ranges for achievements at each level.
"What we know about high performers is that they are ready now, even if their skills need to be developed," says Maxwell, "High performers are like throughbred horses – they must run." Associates who exhibit the skills mastered using Share School and the online portal will be eligible for promotion, without waiting for an annual review.
"I started with Share On Purpose in August of 2016. In eight months, I've received three promotions and my salary increased by 53%," says Patience Carter, Engagement Manager for Promote On Purpose, "I decide how fast I want to grow, and our management team develops my skills through experience, opportunities and mentoring. My goal is to be at the Director level by Q4 of 2017."
Future plans for Share School include building training modules for associates at all levels and to have training available to assist with the progression of career.
About Share On Purpose
Share On Purpose creates, launches and invests in companies with innovative solutions that make the world better. Using The Share Cultivator™, we launch purposeful companies that transform industries and positively impact communities. Our culture supports leaders as they grow professionally and personally in the pursuit of success and meaning. Through our state-of-the-art training program, we train team members to work in and run these brands, while fulfilling their own career aspirations. For more information about working for one of our brands, visit http://shareonpurpose.com/available-positions/.