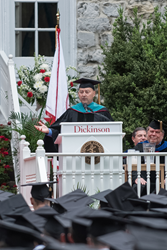 My problem is that by making that catch phrase, 'Thank you for your service,' somehow the province of the military alone, we miss a crucial point.
Carlisle, Pa. (PRWEB) May 23, 2017
During his commencement speech at Dickinson College on May 21, retired four-star Admiral James Stavridis discussed why he's sometimes troubled by the common statement to military members, "thank you for your service," and why often-maligned groups, like the news media, are deserving of the expression of gratitude as well.
"My problem is that by making that catch phrase, 'Thank you for your service,' somehow the province of the military alone, we miss a crucial point," Stavridis, former supreme allied commander of NATO, explained. "Which is simply that there are so many ways to serve this nation, and indeed to serve the world beyond what our military does."
He called out other groups and professions, including journalists, whom he said are doing "deeply dangerous work on the front lines of crisis around the world, risking their lives to tell the story." He added that foreign correspondents, particularly, are "brave and steady under fire, like the best of our military, yet they are armed only with a notepad, a recorder and a smart phone."
The admiral pointed out how first responders, Peace Corps members, teachers, diplomats, health-care professionals, entrepreneurs, social workers and even politicians serve the country. "Politics has become blood sport in America," Stavridis said, "Any elected representative… is subject to endless scrutiny, bottomless skepticism and often deep personal unpopularity."
Stavridis advised the class of 2017 to make service a priority. "In the gorgeous trajectories of your lives, find time to serve," he said. "Because one day I want to be able to say to you—the class of 2017—'thank you for your service.'"
Stavridis was the longest-serving combatant commander in recent U.S. history. From 2009-2013, he led the NATO alliance in global operations as supreme allied commander with responsibility for Afghanistan, Libya, Syria, the Balkans, cybersecurity and piracy off the coast of Africa. His memoir of the NATO years, "The Accidental Admiral," was released in 2014, and his leadership book, "The Leader's Bookshelf," appeared in March of 2016. He is married to Laura Hall Stavridis, Dickinson class of 1981, and the father of two daughters.
From 2006-2009, Stavridis led the U.S. Southern Command in Miami, with responsibility for all military operations in Latin America. He earlier served as senior military assistant to the secretary of the Navy and the secretary of defense and—immediately after the 9/11 attacks—led "Deep Blue," the Navy's premier operational think tank for innovation. Earlier in his military career, Stavridis commanded the top ship in the Atlantic Fleet, winning the Battenberg Cup for operational excellence, as well as a squadron of destroyers and a carrier strike group, all in combat. He is a recipient of the Navy League John Paul Jones Award for Inspirational Leadership and holds more than 50 medals, including 28 from foreign nations.
After 37 years of service, Stavridis retired from the Navy in 2013 and became the 12th dean of The Fletcher School of Law and Diplomacy at Tufts University, a position he holds currently. An Annapolis graduate, he holds a Ph.D. in international relations from the Fletcher School, where he won the Gullion Prize as top student. Stavridis also chairs the board of the U.S. Naval Institute, the professional association of the nation's sea services: Navy, Marine Corps, Coast Guard and Merchant Marine. He is a monthly columnist for TIME magazine and chief international security and diplomacy analyst for NBC news and MSNBC.
About Dickinson:
Dickinson is a nationally recognized liberal arts college chartered in 1783 in Carlisle, Pa. The highly selective college is home to 2,400 students from across the nation and around the world. Defining characteristics of a Dickinson education include a focus on global education—at home and abroad—and study of the environment and sustainability.