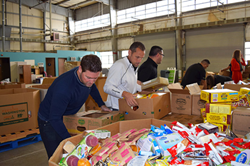 LinkSource owners Curt Lewis and Jason Newbold busy volunteering their time.
Roseville, CA (PRWEB) May 24, 2017
The Placer Food Bank believes that no one should go hungry. On April 27, 2017 LinkSource Technologies® helped make that a reality for 360 area families. The LinkSource crew spent hours sorting and boxing donated food items, which will be distributed to people in the El Dorado, Nevada and Placer County areas. It was like a day of hunger-relief Tetris!
When the LinkSource staff arrived at the Placer Food Bank in Roseville, they were blown away by the size of the operation. The new facility is over 30,000-square feet, a major expansion from the 10,500-square foot location that previously held the local charity. It's hard to believe that the Food Bank started out in a tiny 500-square foot building near Roseville's famed Denio's Market a decade ago. This new location allows the organization to accept every item donated; which can sometimes be 40,000 lbs of pre-made macaroni, 20,000 lbs of pudding or pallets of fresh food and produce that need immediate care and distribution. The Placer Food Bank has increased its volunteer labor each week as well, which is now over 1,350 hours. "We've growing over the last (few) years and we've been needing the extra space," said Alex Romo, a food bank employee. There are good reasons for the increase in space and help; there is a huge demand.
1 in 7 individuals living in the Placer area do not know where their next meal will come from; 1 in 5 children face the same daily uncertainty. The Placer Food Bank, with the help of local businesses like LinkSource Technologies, distributed over 7.8 million pounds of food in 2015, feeding around 72,000 individuals in the area. While canned and non-perishable items remain a staple, the Food Bank also seeks to educate and facilitate healthy eating, fresh food and toiletries needed for good hygiene.
The Placer Food Bank has a variety of ways that it reaches its consumers.

Indirect Services (giving food to nonprofit distributors in the region)
Direct Services (working with individuals and families needing food and toiletries)
Free Farmer's Market in Rocklin (and soon one in Lincoln as well)
"Feed Our Future" Program (Roseville City School District students receive weekly packs of food to take home)
Placer Community Gardens (connects local individuals, community organizations and businesses with local gardeners and farmers)
LinkSource is proud to partner with The Placer Food Bank and help with such a vital community initiative. As a matter of fact, they have already booked their next volunteer date with the Food Bank and plan on exceeding this visit's numbers!
About LinkSource Technologies®:
LinkSource Technologies® is a telecom and cyber security lifecycle management consulting firm partnering with global enterprise organizations. They advise organizations how to navigate the complex, and sometimes confusing telecom landscape while also showing clients how to turn the tables on cyber terrorists and hackers. LinkSource has been successful in helping their clients identify and vet first-rate companies and technologies. They consult with clients on best practices and solutions on everything from audits to procurement and TEM to cyber security, enabling clients to focus on their core business. New technologies often enhance, secure or optimize legacy systems, which ultimately saves valuable time, creates business efficiencies and produces immediate return on investment (ROI), all of which has delivered more than $1.6 billion in savings to LinkSource clients. Visit LinkSource's website to learn more about their services and how you can save time, money and secure your data.