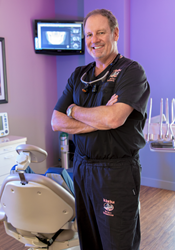 Charleston, SC (PRWEB) May 23, 2017
New patients from Charleston, SC, are now welcome to receive a full mouth reconstruction from Dr. Kevin Hogan, an experienced dentist practicing in Mt. Pleasant, SC, with or without a referral. A full mouth reconstruction can transform the appearance of the smile and is often recommended for patients with missing teeth in Charleston, SC. Those who suffer from gum disease, misaligned teeth or jaw pain can also receive comprehensive treatment from Dr. Hogan, a clinician with over 35 years of experience.
No two full mouth reconstruction cases are exactly the same, and Dr. Hogan customizes his treatments to meet the unique smile goals and needs of each patient. Individuals who have TMD (temporomandibular joint disorder), gum disease or crooked, stained or missing teeth in Charleston, SC, can now go to one experienced dentist to receive a single, comprehensive treatment plan designed to improve the smile both functionally and aesthetically. Patients who receive a variety of cosmetic dental treatments from a single dentist enjoy the benefits of more efficient care as well as treatments that are designed to complement each other.
A few of the leading services Dr. Hogan offers to transform the smile include porcelain veneers, dental implants, orthodontics and teeth whitening procedures. He also offers services designed to treat various oral problems and health conditions, including laser gum disease treatment with the LANAP® protocol and temporomandibular joint (TMJ) related treatments. Prior to recommending a treatment plan for his patients, Dr. Hogan performs an oral examination and discusses each patient's long-term treatment goals and budgetary concerns. He then recommends a plan of action that may include one or more treatments. A treatment schedule is then set up and the smile makeover process can begin.
Dr. Hogan encourages patients with gum disease and missing teeth in Charleston, SC, to have their smiles restored with leading general dentistry and smile makeover services. Patients who wish to schedule an appointment may do so by calling Smiles by Hogan at 843-639-5921.
About the Doctor
Dr. Kevin Hogan is a general dentist providing individualized care for patients in Mt. Pleasant, SC. Dr. Hogan is a graduate of the Indiana University School of Dentistry and has completed hundreds of hours of continuing education courses to stay contemporary with the latest dental technologies. In addition, he has also completed coursework with the Dental Organization for Conscious Sedation and has lectured at the University of North Carolina, Emory University, the Saginaw Valley University and AUA-American University of Antigua on head and neck anatomy and oral pathology. Dr. Hogan is a member of the American Dental Association, International College of Cranio-Mandibular Orthopedics, Academy of Laser Dentistry, International Association of Physiologic Aesthetics, Institute for Advanced Laser Dentistry, DOCS (the Dental Organization for Conscious Sedation), International Congress of Oral Implantologists and the South Carolina Dental Association. He is also a past member of the American Straight Wire Orthodontic Association, Maxillofacial Orthopedic Growth and Development, the American Academy of Pediatric Dentistry and the Functional Orthodontic Society. He and his team are dedicated to providing exceptional oral care to patients through personalized treatment plans. To learn more about the services offered by Dr. Hogan, please visit his website at http://www.smilesbyhogan.com or call 843-639-5921.