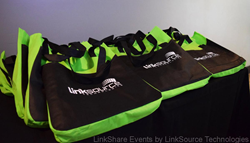 "Wonderful panel, great variety of cloud topics discussed. I thoroughly enjoyed my time today." – Briana Sorochak, Oracle
Roseville, CA (PRWEB) May 23, 2017
On May 2, 2017, LinkSource Technologies® hosted their first annual LinkShare Event at TopGolf in Roseville. The theme of the event was "Cloud First Strategies – Changes You Need To Know" and was a day of food, fun, networking and golf. Attendees of this event learned why it's better to be IN the cloud, not UNDER it and how to survive a cloud migration project. This event was designed to help inform and update CEOs, CIOs, CISOs, CTOs, IT and Procurement Professionals.
The educational portion of the event was emceed by the knowledgeable and entertaining Andrew Pryfogle, Senior VP of Cloud Transformation at Intelisys and consisted of a panel and Q&A session centered around the themes of:

UCaaS
Host Call Centers
Legacy Migrations
Cloud-Based Cyber Security
The panel of experts and sponsors was comprised of the following industry gurus:
Chuck Cavins – Sr. Sales Engineer, CrowdStrike
Aaron Goodwin – District Sales Manager, inContact
Chris Werpy – Senior VP of Solutions & Services, Masergy
Ramon Largaespada – UcaaS Advocate & Major Accounts Sales Manager, RingCentral
Jason Cutler – Director of Channel Sales, SADA Systems
Sergio Schilardi –Sales Director, ViaWest
The event was well-attended and all feedback received was very positive. Some of the comments made by guests were:
"Wonderful panel, great variety of cloud topics discussed. I thoroughly enjoyed my time today." – Briana Sorochak, Oracle
"Great panel. Top notch!" – Rick Contreras, PG&E
"Very well done!" – Rob Hunga, Centene
"Great event, interesting topics!" – Charles Pirollet, Stanford Hotels
After the presentation, attendees headed out to the golf bays to mingle, enjoy a buffet-style lunch and play from a variety of games at TopGolf's state-of-the-art 215-yard driving range. It was a fabulous way to have a relaxed meeting of the minds and continue discussions from the earlier panel
This LinkShare event was designed to bring together industry minds for a relaxed and educational experience. LinkSource would like to thank everyone who joined them for tee time and hope that the discussions helped "drive a wedge" into some of the industry problems covered in the agenda. May we all have the fore-sight to move forward and thrive in a cloud-based world. Stay tuned for exciting news about the next LinkShare event and how you can be a part of it.
About LinkSource Technologies®:
LinkSource Technologies is a telecom and cyber security lifecycle management consulting firm partnering with global enterprise organizations. They advise organizations how to navigate the complex, and sometimes confusing telecom landscape while also showing clients how to turn the tables on cyber terrorists and hackers. LinkSource has been successful in helping their clients identify and vet first-rate companies and technologies. They consult with clients on best practices and solutions on everything from audits to procurement and TEM to cyber security, enabling clients to focus on their core business. New technologies often enhance, secure or optimize legacy systems, which ultimately saves valuable time, creates business efficiencies and produces immediate return on investment (ROI), all of which has delivered more than $1.6 billion in savings to LinkSource clients. Visit LinkSource's website to learn more about their services and how you can save time, money and secure your data.