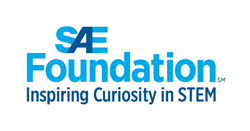 The evening will feature the presentation of the Industry Leadership Award to racing legend Jack Roush.
WARRENDALE, Pa. (PRWEB) May 22, 2017
The SAE Foundation will hold its Annual Celebration on Tuesday, May 23, at the Masonic Temple in Detroit. The evening will feature the presentation of the Industry Leadership Award to racing legend Jack Roush.
Roush is founder, CEO and Co-Owner of Roush Fenway Racing and Chairman of the Board of Roush Enterprises; he is receiving the award in recognition of his meaningful contributions to the mobility industry and his exemplary philanthropic activities and passion for science, technology, engineering and math (STEM) education.
In addition to the Industry Leadership Award, the SAE Foundation will also present its annual Young Industry Leadership Award; the Ableson Award for Visionary Leadership; and the Gordon Millar award, sponsored by AVL.
Proceeds from this annual fundraiser benefit the SAE Foundation, the charitable arm of SAE International. The SAE Foundation is addressing one of the most pressing issues facing industry today - the decline of students enrolling in science and technology programs – by providing programs that bring math and science to life and sow the seeds of endless possibilities for today's students from Pre-K to University.
Since 2006, more than 530,000 students in almost 9,000 Michigan classrooms have used SAE International's AWIM curriculum. Based on surveys, 72% of students experienced a significant increase in math and science scores, and 84% of students displayed a positive change in attitude towards math and science after their AWIM experience.
100 percent of the top 50 engineering-degree producing universities participate in at least one SAE International Collegiate Design Series event including eight universities in Michigan: Michigan Technological University, Kettering University, Oakland Community College, Lawrence Technological University, Wayne State University, Michigan State University, University of Michigan and University of Michigan – Dearborn.
For more information about the celebration, visit http://www.saefoundation.org/banquet/.
To request media credentials to attend the event, email shawn.andreassi(at)sae.org or call 1-724-772-8522.
About the SAE Foundation
The SAE Foundation encourages and increases student participation and achievement in science, technology, engineering and math through educational programs, including A World In Motion® and the Collegiate Design Series™. SAE International is a global association of more than 128,000 engineers and related technical experts in the aerospace, automotive and commercial-vehicle industries. SAE International's core competencies are life-long learning and voluntary consensus standards development.