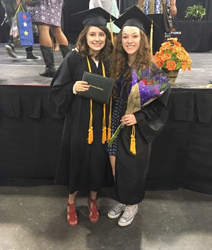 Graduation is our favorite day of the year because it represents the culmination of all the hard work of these students and marks a milestone in their path toward adulthood
Bartlesville, OK (PRWEB) May 23, 2017
Oklahoma Connections Academy, a tuition-free online public school that serves students statewide in grades K-12, graduated more than 100 seniors at a commencement ceremony on Saturday, May 20 at Claremore Expo Center, Claremore, Okla. Family, friends, teachers and administrators came together to celebrate the students' successes, with remarks from Sonia Panjnani, class valedictorian, National Merit Scholarship finalist and graduating senior.
"We are very excited to have played a part in the lives of each of these unique individuals," said Tammy Shepherd, principal at Oklahoma Connections Academy. "Graduation is our favorite day of the year because it represents the culmination of all the hard work of these students and marks a milestone in their path toward adulthood. We want to congratulate each and every one and wish them well!"
Wellston's Tobias Sapp has attended Oklahoma Connections Academy all four years of high school and enjoyed the flexibility of the online program because it enabled him to work on his family's bee farm while attending school. Sapp plans to join the military after graduation, with a long-term goal of earning a degree in psychology before going on to law school.
Edmond's Tori Crow also enjoyed the flexibility of online school as it allowed her to build her schedule around extracurricular activities and several hours of dance practice a day, while still pursuing a high-quality education. Crow will attend the University of Central Oklahoma and will major in dance performance.
Oklahoma City's Hannah Glass will attend Southern Nazarene University, majoring in physical education with the hope of one day becoming an elementary school physical education teacher. Glass thrived in the online school environment, working independently and challenging herself with a variety of unique courses. Oklahoma City is also home to Anthony Barrington who will attend The Juilliard School in New York City this fall to pursue a career as a professional trumpet player.
Additional 2017 Oklahoma Connections Academy graduates will attend universities including Stanford, University of Oklahoma, University of Central Oklahoma, Tulsa Community College, Oklahoma State University, Southeastern Missouri University, University of Georgia and University of North Texas, among others.
The commencement ceremony is an example of the many social events and field trips that Oklahoma Connections Academy hosts throughout the year to provide in-person socialization opportunities for students. The school also offers various activities, including clubs for robotics, gaming and technology, debate and art, among others, and National Honor Society.
Oklahoma Connections Academy serves more than 1,100 students and provides high-quality, personalized online education. The school combines Oklahoma-credentialed teachers with a high-quality curriculum that meets rigorous state education standards. College-bound students can tailor their schedules to accommodate exam preparation and college applications, as well as take advantage of the school's diverse course catalogue, including core classes in math, science, language arts and social studies, as well as expanded AP and Career Technical Education (CTE) classes that help prepare them for a 21st century workforce. From music and art courses to computer coding courses through Java Programming, students are not only fostering creative expression, they are mastering digital literacy.
For more information about Oklahoma Connections Academy and a schedule of upcoming information sessions, please visit http://www.OklahomaConnectionsAcademy.com.
About Oklahoma Connections Academy
Oklahoma Connections Academy is a tuition-free, high-quality, highly accountable virtual public school serving students in kindergarten through 12th grade throughout Oklahoma. Oklahoma Connections Academy is accredited by the North Central Association Commission on Accreditation and School Improvement (NCA CASI), an accrediting division of AdvancED. Oklahoma Connections Academy provides students with the flexibility to learn from anywhere with an innovative curriculum that meets rigorous state education standards. The combination of state-certified teachers, a proven curriculum, unique electives, technology tools, and community experiences creates a supportive and successful online learning opportunity for families and children who want an individualized approach to education. For more information, call 800-382-6010 or visit the school's website, http://www.OklahomaConnectionsAcademy.com.