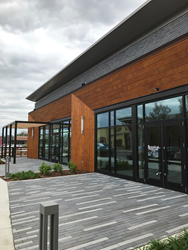 Kalamazoo, MI (PRWEB) May 23, 2017
Leading eye-care provider, Rx Optical, opened two state-of-the-art offices in Breton Village (Grand Rapids), Mich. and Ann Arbor, Mich. in early May to serve their growing patient base. In Fall 2016 the company opened offices on Drake Road in Kalamazoo, Mich. and Knapp's Crossing in Grand Rapids, Mich. Rx has 53 locations throughout Michigan and Indiana. New and existing locations provide eye glass lens manufacturing and fitting, medical patient care, eye-care solutions for adults and children, contact lens fitting, adjustments and repair. The new offices are located at 1858 Breton Rd. SE, Grand Rapids, Mich., and 3275 Washtenaw Ave., Ann Arbor, Mich. This is the second Rx Optical office to open in Ann Arbor.
"From our beginning in 1947 in Kalamazoo, we have expanded at a measured pace, never interested in sacrificing our commitment to our patients to a demand for growth," said George Jepson, Rx Optical Vice President of Marketing "Steady and sure, our steps forward have come when we could afford to responsibly commit to cities and towns which were being underserved – markets where patient names had become numbers. That's where we have always seen the opportunity to instill care and value back into a service and products that we see as pretty darn important to the lives of our patients."
Both Breton Village and Ann Arbor locations are 3,000 square feet and showcase seating solutions from Herman Miller with tables and fixtures custom-designed and fabricated by an artisan woodshop in West Michigan. The company strives to support other Michigan-owned businesses by buying local.
In 2016 the company announced the expansion of their headquarters in Kalamazoo, doubling the current space, this is slated for completion in Fall 2017. Rx Optical's commitment to Michigan and Kalamazoo is demonstrated in the company's $9-million investment into the local economy. Rx Optical currently employs a total of 325 people, including 114 in Kalamazoo. The local work force includes about 30 workers at the company's six existing retail locations, 35 at its lab and 45 at its headquarters. The latter handle administrative chores such as finance, management, training, support and human resources.
"We have been serving the Michigan community for 70 years, providing hands-on solutions at our in-house laboratories and locations," said Jepson. "From eye exams to eye glass manufacturing to insurance billing, we are constantly striving to identify areas where we fall short and create constant improvement in those processes so that we continue to earn our patient's trust and confidence."
The company anticipates additional growth in 2018 with several projects already in process.
Rx Optical has locations within Kalamazoo, Grand Rapids, Holland, Grand Haven, Muskegon, St. Joseph, Benton Harbor, Battle Creek, Lansing, Jackson, Ann Arbor, Plymouth, Livonia, Farmington Hills, Allen Park, Southgate, Woodhaven, Niles, Three Rivers, Sturgis, Coldwater, Jonesville, Ionia, Hastings, Angola (Indiana), Kendallville (Indiana), and Elkhart (Indiana).
For more information on Rx Optical services, or to schedule an eye appointment, visit: RxOptical.com, or call 1-800-Rx-Cares.
About Rx Optical:
For 70 years, Rx Optical has been the leading eye-care provider in Michigan. Dedicated to providing superb customer service, in-house laboratories, and local hospitality, Rx Optical operates 53 offices within Michigan and Indiana. Rx Optical is focused on creating an experience that addresses patient's needs, and exceeds expectations throughout the lifecycle of the product or service. Rx Optical currently offers eye exams, eye care solutions for adults and children, laser vision correction, medical patient care, contact lens fitting, and adjustments and repair. For more information on Rx Optical, visit: RxOptical.com.