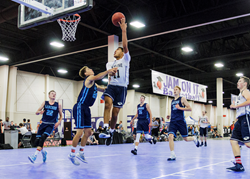 Salt Lake City, Utah (PRWEB) May 26, 2017
With Memorial Day Weekend fast approaching, top athletes and spectators are heading to Reno Nevada to take part in the 2017 AAU Reno Memorial Day Tournament, hosted by Jam On It. With nearly 1000 teams competing, the world's largest basketball tournament celebrating its 16th year, will take place May 27th-29th at both the Reno-Sparks Convention Center and the Reno Events Center. Over 60 SnapSports championship basketball courts with the patented ShockTower® Technology, will again be the 'Official Court' of the Memorial Day Tournament.
"Over the years, we've used nearly every indoor modular surface and SnapSports products have proven to be the best in the industry. Young athletes can play upward of a dozen times during an event, but with the structural support of ShockTower, players are never fatigued from floor impact." – Matt Williams, Governor AAU Pacific District
During the Tournament both qualifying and championship play will take place on over 60 courts featuring the multi-patented SnapSports BounceBack® ShockTower® surfacing. SnapSports BounceBack sports flooring with ShockTower technology is the only modular sports surfacing available featuring actual shock absorbers built into the flooring structure – a multi-patented "resilient shock" technology that was designed with superior performance and player safety in mind. With over 16 individual shocks per square foot, ShockTower is the OneCourt® that stands above all others.
"The team at SnapSports is proud that the world's largest basketball tournament chose SnapSports Athletic Surfaces as the 'Official Basketball Court' over all others, a testament to the fact that when it comes to durability, performance and player safety, we are unmatched." Jorgen Moller Jr, CEO SnapSports
SnapSports participation in the exponentially growing Reno Memorial Day Tournament is one of many successful events throughout a long standing AAU and SnapSports partnership. SnapSports manufactures 24/7, in a 100,000 square foot ISO 9001:2008 quality certified facility in Salt Lake City, UT, and is supported by an authorized global network.