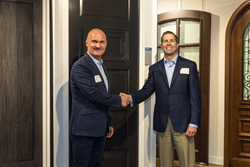 A custom door is a unique opportunity to define a space and make a design statement with real impact. It's the difference between 'very nice' and 'wow'.
Chicago, Illinois (PRWEB) May 24, 2017
If you thought that plumbing fixtures were the final frontier in the quest to turn every part of a home into a design opportunity, think again. It's doors. For too many years we tolerated ugly or, at best, average-looking faucets, shower heads, and the like because we simply did not have any other options or simply did not know any better. Then Kohler revolutionized an industry as well as bathrooms across America. Faucets—who knew? Doors are on the verge of a similar moment.
The demand for custom door design is increasing rapidly across urban centers, suburban neighborhoods, and small towns alike. Chicago is no exception. Leading the charge in Chicago's own entryway and interior door revolution is local architectural door showroom Glenview Haus. Located in the design-driven River North neighborhood, Glenview Haus caters exclusively toward architects and interior designers. The company's mission? To be Chicago's one-stop destination for all custom door design. With a wide variety of styles on display for inspiration, architectural design services at the ready, and the ability to create and install any door in any style with countless customization options, Glenview Haus is a true first for the Chicago design community.
Glenview Haus owner Greg Wozniak wants Chicago to know that when it comes to doors, there are options that many people wouldn't have dreamed of several years ago. "A door isn't just something you put up between rooms to block out noise or grant privacy," says Wozniak. "It's a unique opportunity to define a space and make a design statement with real impact. It's the difference between 'very nice' and 'wow'."
For Chicago architects and designers seeking to distinguish their designs and make those wow statements, custom door design has never been easier. Wozniak knows that once the design community knows their options, sees what's possible, and understands how Glenview Haus will make it happen for them, there will be a dramatic shift in the way they design doors into a space.
For Wozniak, it's all about education and getting the word out. Last week, Glenview Haus hosted TruStile President & CEO Scott Schmid for a presentation about the way custom doors are changing interiors. Just one in a steady stream of events geared toward educating Chicago architects and interior designers about doors, the event was a perfect summation of the design revolution in progress.
Schmid's presentation focused on interior doors as another, often unexplored and underutilized tool, in an architect or interior designer's bag of tricks. And while the presentation was thoughtful and passionate, it was the supporting imagery that told the real story. The story of what is possible.
Schmid agrees that physically showing architects and interior designers their options opens up a world of possibilities. He believes Chicago is lucky to have Glenview Haus pushing this design revolution forward. "What Glenview Haus is doing here is really unique and it's really important," says Schmid in a candid post-event interview. "They are selling doors to interior designers the way that furniture companies sell furniture to interior designers. And nobody has tried to [show] doors . . . in the way that they [are]. I think that's really great. It's very unique and the expo is terrific, and there's nobody else doing it."
Luxe Magazine publisher Kathleen Mitchell echoed these sentiments, "Architects and interior designers love Glenview Haus because they now have a beautiful showroom to bring in their clients and show them the possibilities. It's unique and a good idea."
Mitchell also recognizes the shifting marketplace for custom doors in Chicago and beyond. "More designers are starting to see doors in a new way. They are seeing the opportunity to use doors as really cool accessories, whereas before they were an afterthought. Now they are using luxury materials like suede, leathers, and really cool metals – more like furniture."
About Glenview Haus
Located in the heart of Chicago's historic River North design district, Glenview Haus is the premier destination for custom interior and exterior doors, wine cellars, and cabinetry. From design, field measurements, and technical drawings to production, pre-finishing, and white glove installation, the experts at Glenview Haus are equipped to handle everything and ready to collaborate. With a range of styles from traditional to modern and a wide range of customization options available, the only limit is imagination. For more information, visit http://www.glenviewhaus.com.