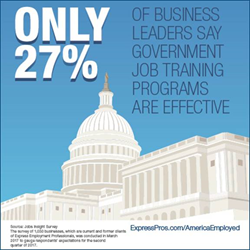 Oklahoma City, OK (PRWEB) May 24, 2017
Express Employment Professionals released new survey results revealing how business leaders view government job training programs.
In a survey of 1,030 businesses, respondents were asked, "How effective are government job training programs?"
Only 27 percent said they are effective, with 3 percent saying "very effective" and 24 percent saying "effective."
A majority, 56 percent, said programs are "neither effective nor ineffective," while 14 percent called them "ineffective," and 3 percent deemed them "very ineffective."
While the number of respondents calling them effective is low, it is the highest percentage of respondents offering a positive view of government job training programs in the last four quarterly surveys from Express.
Full results are below.
"One of the biggest problems employers face in a tightening labor market is finding the right people with the right skills, and one of the biggest challenges for the unemployed is finding a job that matches their skill set," said Bob Funk, CEO of Express, and a former chairman of the Federal Reserve Bank of Kansas City. "Results like these should be a wakeup call. We need job training programs that are effective at equipping people with skills that are in-demand, yet from businesses' perspective, that's not happening."
In your opinion, how effective are government job training programs?
Q2 2017 Q1 2017 Q4 2016 Q3 2016
Very effective 3% 3% 1% 2%
Effective 24% 18% 17% 20%
Neither effective nor ineffective 56% 56% 54% 52%
Ineffective 14% 17% 19% 19%
Very ineffective 3% 5% 8% 7%
The survey of 1,030 businesses, which are current and former clients of Express Employment Professionals, was conducted in March 2017 to gauge respondents' expectations for the second quarter of 2017. Previous surveys were conducted to cover hiring trends of the quarters indicated.
***
If you would like to arrange for an interview with Bob Funk to discuss this topic, please contact Sheena Karami, Director of Corporate Communications and PR, at (405) 717-5966.
About Robert A. Funk
Robert A. "Bob" Funk is chairman and chief executive officer of Express Employment Professionals. Headquartered in Oklahoma City, the international staffing company has more than 770 franchises in the U.S., Canada and South Africa. Under his leadership, Express has put more than 6 million people to work worldwide. Funk served as Chairman of the Conference of Chairmen of the Federal Reserve and was also the Chairman of the Federal Reserve Bank of Kansas City.
About Express Employment Professionals
Express Employment Professionals puts people to work. It generated $3.05 billion in sales and employed a record 510,000 people in 2016. Its long-term goal is to put a million people to work annually. For more information, visit ExpressPros.com.