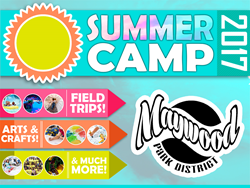 A summer filled with great memories and fun!
Maywood, Illinois (PRWEB) May 25, 2017
It's that time of the year again! The Maywood Park District is getting ready for Summer Camp for 2017!
Summer campers will be starting their day right with healthy and balanced meals for both breakfast and lunch. After that, campers will be ready to go on daily adventures to grow and learn! From educational and exciting field trips to Navy Pier's Children's Museum to weekly visits to watch a great movie, there are loads of activities youth will enjoy.
For the first time EVER, college preparation activities and spoken word workshops provided by local youth advocacy groups Mentoring You and Firebrand Arts Network will be offered. Summer Camp 2017 will not only be a memorable and fun time for those that attend but also for the parents, as there will be field trips planned that will get the whole family involved!
To find out more about the Maywood Park District's Summer Camp 2017 and the activities that are in store for campers, visit the website at the link below!
Click here to find out more about the Maywood Park District's 2017 Summer Camp!
For any more additional information or questions regarding the camp, visit the Maywood Park District's office at 921 S. 9th Avenue, Maywood, IL 60153 or phone-in at (708) 344-4740.