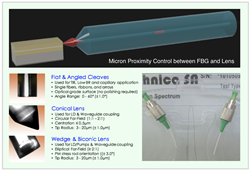 "We are excited to be working alongside Technica on this cutting edge device and believe the integrated lensing and FBG technologies will be widely accepted into existing and emerging markets"
Atlanta, Beijing, and Singapore (PRWEB) May 24, 2017
Lensed Fiber Bragg Gratings (Lensed-FBGs) are splice-free fiber assemblies used for external cavity semiconductor lasers, fiber lasers, DFB lasers, and optical sensors that are widely used in communications, manufacturing production, marking, and inspection and processes, test and measurement equipment, and in most research and development laboratories and research facilities.  
The new T55 family of Lensed-FBGs from Technica and OpTek Systems integrate world-class FBGs and lensing technologies into a single robust device designed to maximize laser performance. They are optimized for the specific laser chip to which they are coupled. Proprietary far-field matching algorithms are used to ensure that high coupling efficiencies are achieved with minimal alignment sensitivity.
The T55 Lensed FBG is the successful result of a close engineering collaboration between Technica and OpTek Systems. The product eliminates splice losses, break points and bulky splice sleeves, while maximizing coupling efficiency between the fiber and the laser. Moreover, Lensed-FBGs can be incorporated into turnkey hermetic feed-thru packaging that is non-intrusive to the FBG performance.
"We are excited to be working alongside Technica on this cutting edge device and believe the integrated lensing and FBG technologies will be widely accepted into existing and emerging markets," stated Duane Dinkel, President of OpTek Systems, Inc.
Andrei Csipkes, President of Technica added that "Exhibiting excellent wavelength control, a high side-lobe-suppression-ratio, and field proven performance at a competitive cost, the new Lensed FBGs are designed to be a premium reliability plug-in component compliant with the requirements of many international standards bodies including ROHS and Telcordia". Click here for technical details.
The T55 family of Lensed-FBGs manufactured and sold by Technica under International License from OpTek Systems, Inc.
OpTek Systems is a global provider of laser processing equipment and manufacturing services for the fiber optic and micromachining markets. Established in 2000, OpTek has manufacturing facilities in the USA, UK and China, with additional sales and support in Taiwan, Singapore, Japan and Europe.
Technica is a leading developer, manufacturer, and provider of premium quality Fiber Bragg Grating sensors and FBG array sensors in acrylate, polyimide, and gold coated fibers. The company also proudly licenses and produces individual OEM custom packaged sensors. Techinca is headquartered in Atlanta, USA, with Advanced Technology Centers in Atlanta, Singapore and Beijing, and with mass-production facilities in Beijing, China.