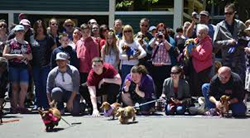 "We are tickled PINK to be invited to conduct our Dachshund races at Lake Compounce. We are thrilled with the number of racers attending It's going to be fun for everyone!" says Dachshund Rescue and Pet Service founder Anne Jordan
Bristol/Southington, CT (PRWEB) May 23, 2017
Saturday May 27th, Lake Compounce will be hosting the 4th annual Pink's Hollywood Hotdog Weiner Dog 100 Race featuring 100 lightning fast Dachshunds plus a dog Fashion Show. Immediately following the adorable festivities, the park will be holding their 2nd annual hotdog eating contest with the award being an all-expense paid mini vacation at Bear Creek and Lake Compounce.
In conjunction with the Connecticut Dachshund Rescue and Pet Services (CTDRPS) organization, the Wiener Dog 100 Race will feature 100 Dachshunds competing in heats of five, racing for the ultimate distinction of 'Fastest Hot Dog'. The top three winners will be donned with first, second and third place metals on a three-tiered podium and each will receive a basket of dog treats courtesy of Lake Compounce. The race will be followed by a Dachshund Fashion Show.
Dachshund Rescue and Pet Services founder Anne Jordan says "We are tickled PINK to be invited to conduct our Dachshund races at Lake Compounce. We are thrilled with the number of racers attending and the wide variety of Dachshunds you'll get to see. It's going to be fun for everyone!"
Pink's Hot Dogs, a Hollywood Legend since 1939 is a family owned business and was named by Fox News as number one in a list of Top Ten Hot Dog Stands in the U.S. The famous hot dogs attract celebrities such as, Jay Leno, Martha Stewart; and Food Network superstars, Giada de Laurentiis and Guy Fieri. Pink's first East Coast location was added to Lake Compounce in 2014.
The hotdog eating contest Lake Compounce will take place at 4pm on May 27th. Participants must be at least 18 years of age and will be given an allotted time to eat as many hotdogs as they can and need to preregister to participate by contacting Lake Compounce at sociallc(at)lakecompounce.com.
About Lake Compounce & Palace Entertainment
Lake Compounce is New England's premier family theme and water park and is located in Bristol, CT. Featuring over 50 rides, shows, and attractions, Lake Compounce is the oldest continuously operating amusement park in North America, celebrating its 171st season. This park is home to Connecticut's largest water park, Crocodile Cove. Lake Compounce is owned and operated by Palace Entertainment, one of the leading leisure park operators in the United States. Palace Entertainment owns and operates eight water parks, six theme parks, two animal parks, and five family entertainment centers across 10 different states. For more information, please visit lakecompounce.com, or connect with us on Facebook, Twitter, and Instagram.